This spring, youth at Strickland Youth Center and POINTE Academy in Mobile have had the opportunity to participate in a 10-week creative writing program called Writing Our Stories. A condensed version of the Alabama Writers' Forum's well-established program serving middle school and high school students in the Montgomery, Birmingham and Shelby County areas, the spring program is a pilot for the Mobile County area.
Writing Our Stories, established in 1997 as a partnership between AWF and the Alabama Department of Youth Services, pairs published teaching writers with students in a variety of educational settings, including those in the juvenile justice system.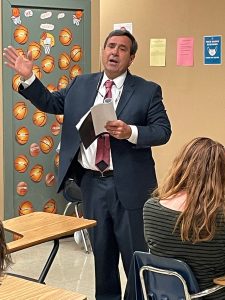 Mobile County Circuit Court Judge Edmond Naman, presiding judge of the Mobile County Juvenile Court, has been a strong advocate for the Writing Our Stories program in the Mobile area. He believes "the program has given our children the instruction, insight and forum to share with others how unique they are and why they must not be ignored."
According to Eddie Mitchell, Chief Operating Officer for POINTE Academy and the Strickland Youth Center, Writing Our Stories is "the first time the school has been able to offer instruction solely focused on creative writing and to engage the students with language and written expression that is in addition to their regular English classroom curriculum."
Kate Duthu, teaching writer for the Mobile pilot, notes that while teaching vocabulary and writing skills, which are the focus in academic settings, the program also "contributes to the therapeutic process by offering a healthy way for students to express their ideas, feelings and experiences."
Duthu, a former prosecutor and family law attorney who has her Masters in English with a concentration in creative writing from the University of South Alabama, emphasizes her partnership with classroom teachers. With them, she promotes creativity and confidence using lessons from the successful Writing Our Stories curriculum. In addition to what they learn in the classroom, students have the opportunity to see their work in print. Their poems and stories will be shared in a digital anthology which preserves confidentiality by identifying the young authors only by their initials.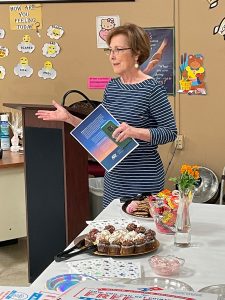 Jeanie Thompson, Executive Director of the Alabama Writers' Forum and founder of Writing Our Stories, notes, "The Forum welcomes this opportunity to pilot Writing Our Stories in Mobile at POINTE Academy and the Strickland Youth Center. Our hope is that through poetry and narrative writing, young people who search for a meaningful identity will find their voices through Writing Our Stories."
For Judge Naman, the program is meaningful in what it reveals about the lives of the young writers.
"After a lifetime of working with children in the juvenile justice system," he says, "I have come to see a surprisingly incongruous beauty in so many of their stories. There is beauty in their struggle, bravery and resilience. There is beauty in their hope as they face overwhelming odds. A beauty in their strength to face a new day as they muster the courage to believe they can achieve a better way of life. This is a perspective of our children that few people take the time to understand. A beauty that far too few of our children even recognize in themselves."
"We know that poetry can change lives-we've seen it many times in our 25 years of work with at-risk youth in Alabama," says Thompson. "We believe that young lives in Mobile will move to a better path as they become poets and writers. Deepest thanks to Judge Naman and the Boys and Girls Clubs of South Alabama for the opportunity."
Mitchell notes that he has "read more poetry in the last 5 or 6 weeks than I have in quite a while and look forward to reading our students' work."
The Alabama Writers' Forum is a statewide partnership program of the Alabama State Council on the Arts. Its mission is to enhance the quality of life and economic vitality for all Alabamians by championing the state's rich literary arts resources, educating and encouraging its young writers, and promoting its established writers – all in a spirit of diversity, equity, and inclusion.