By Edward Journey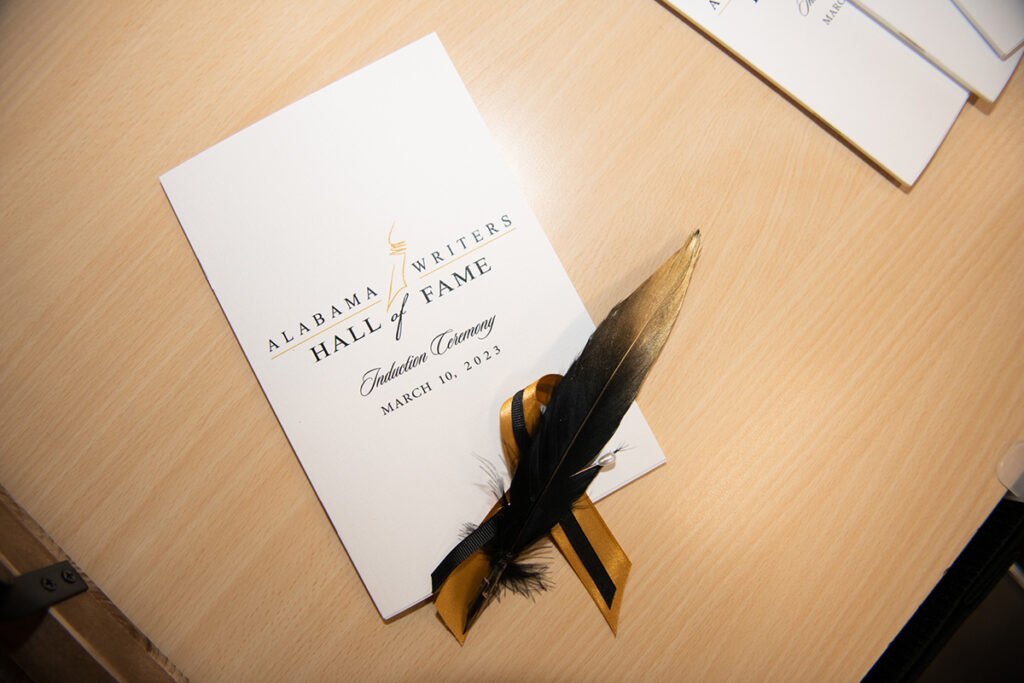 Donald L. Gilstrap, Dean of University of Alabama Libraries, succinctly summarized the fifth Alabama Writers Hall of Fame Induction Ceremony shortly before it started – "It's our opportunity," he said, "to celebrate the many outstanding writers of the state of Alabama." Indeed, "Celebrate Books" became the unofficial theme of the gathering, co-sponsored by the Alabama Center for the Book and Alabama Writers' Forum. Michael Pearce, director of Alabama Center for the Book, said "The Alabama Writers Hall of Fame is a living monument to the toil and craft involved in creating lasting literary works that explore the culture and folkways of our great state."
The Alabama Writers Hall of Fame Induction Ceremony took place on Friday, March 10, at the Bryant Conference Center on the University of Alabama campus. The event added eight writers – all of whom were born in Alabama – to an already impressive group of thirty-six previously-inducted literary luminaries who can claim Alabama as part of their legacy.
The evening was an inspiring celebration of books and the people who write them. The 2023 inductees represent award-winning works spanning many literary genres and stylistic approaches. Inductees include Tom Franklin, author of fiction that is praised for its "great sense of place and character development"; scholar Trudier Harris, whose nonfiction, essays, and memoirs focus on an impressive spectrum of the Black experience and literary tradition; Angela Johnson, a writer of books and poetry that are primarily crafted for young audiences, but appeal to readers of all ages; journalist Howell Raines, whose work crosses over into fiction, nonfiction, and memoir; Michelle Richmond, the writer of "crisp and exact" fiction and essays that are praised for their emotional intelligence; and Daniel Wallace, whose transcendently down-to-earth work in many genres illustrates his contention that "life is hard, and laughter is good."
Two much-missed Alabama writers were inducted posthumously. The unlikely career of "Mobile's Renaissance Man" Eugene Walter (1921-1998) was international in scope and far-reaching in influence – he knew everybody, it seems. Kathryn Tucker Windham (1918-2011) began her writing career in newspaper journalism and achieved lasting affection and acclaim as a storyteller, photographer, and chronicler of ghosts and Southern life.
This induction was especially memorable, having been postponed due to the pandemic. Julie Hall Friedman, 2023 Gala Chair and a member of the Alabama Writers' Forum Executive Committee, said, "I felt that because we had to delay the event, the mood was joyful and positive because we were able to be back together again."  At the pre-induction reception, the Northridge Quartet of Tuscaloosa City Schools provided string music as people met again after a long time or for the first time. Because of the nature of the event, my pre-dinner conversations tended to be peppered with references to current trends from extremists across the political spectrum to try to ban, censor, tamper with, and otherwise threaten written texts. Such concerns, however, did not dampen the spirit of celebration as honorees, their families and friends, and lovers of the book paid homage to unfettered achievement in the literary arts.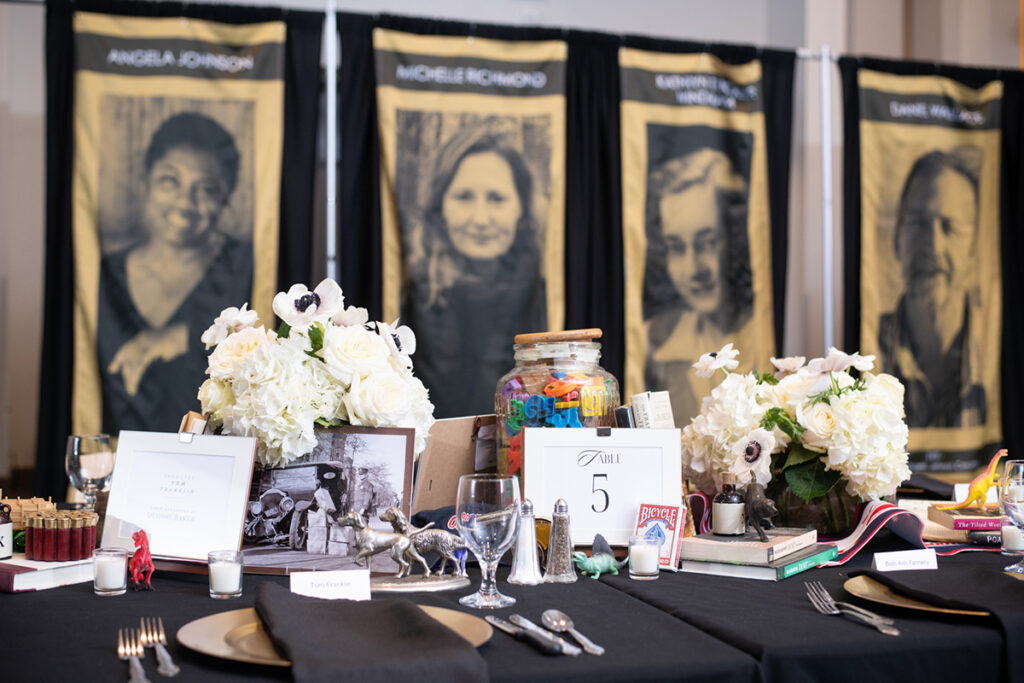 After the fellowship of the reception, attendees took seats at tables beautifully decorated with unique book-themed centerpieces styled by Julie Friedman. Each honoree's table was adorned with a centerpiece celebrating their individual careers and accomplishments, keeping with the goal to, as Friedman put it, "make the event as personal and as meaningful to recipients as possible … I feel like I really get to know the writers by the time the dinner rolls around." Indeed, the honorees' centerpieces were like a still life of the writers' life and work. Howell Raines commented that "it was like looking at my entire life on the table."
After a three-course dinner and welcoming comments by Dean Gilstrap, Harper Lee Award-winner and 2020 Hall of Fame inductee Carolyn Haines took the lectern to introduce the 2023 class of inductees. Before the introductions, Haines playfully offered to share what she knows about certain inductees "if you would like to hear the stories, and if you have money."
Prior to each honoree coming onstage, a short video tribute was shown, highlighting the life and work of the inductee. The videos, produced by Center for Public Television Executive Producer Robert Briscoe, were narrated by Don Noble, retired University of Alabama professor and Alabama Writers Hall of Fame Executive Committee member, whose public television literary interview program, "Bookmark," shines an ongoing spotlight on writers from Alabama and beyond.
The acceptance remarks by the honorees illustrate the diversity and richness of Alabama's literary landscape, with the comments as varied as the works for which each was being honored. Each writer, or their representative, delivered brief and memorable statements notable for their empathy, humility, humor, wisdom, and gratitude in response to the honor. As Michael Pearce of Alabama Center for the Book remarked after the induction, "the spirit and brilliance of the 2023 inductees was certainly on display."
Tom Franklin, author of gritty and masterful short stories and novels, notably writes about "innocents being thrust into a place of violence." After heart-felt comments about his writing and the people and places who influence it, Franklin delighted the audience with his account of his fellow honoree, Eugene Walter, entertaining a bemused audience with an extended "air cello" performance many years ago.
Dr. Trudier Harris, who recently retired as Distinguished Research Professor of English at the University of Alabama, half-joked that she made "job decisions based on weather." Although retired, Harris is still busy at work researching a "biography" of Bigger Thomas, the fictional main character of Richard Wright's Native Son. Her energetic acceptance comments were about her lifetime of "chasing words" – they are elusive and tricky, sometimes, "… but I keep chasing." At the end of her acceptance, Harris rushed off-stage to chase another elusive word.
Since the publication of her first book, Tell Me a Story, Mama, MacArthur Fellow and Harper Lee Award-winner Angela Johnson has published more than forty books. She was not able to attend the gala, but in the presentation video, she listed the "little things about Alabama" that stick with her, including the feel of red dirt on bare feet and, especially, kudzu, which symbolizes the South in the way that "everything is uncovered and recovered." Johnson's cousin, Shardra Scott, came from Birmingham to accept the honor on her behalf.
Pulitzer Prize-winning journalist and author Howell Raines briefly addressed the threats of book censorship. He also lauded Alabama as the "seedbed of my career," praising the ongoing literary legacy of Tuscaloosa and the University of Alabama. Raines's erudite remarks quoted Carl Carmer's statement, in his 1934 book Stars Fell on Alabama, of his intent "to write of Alabama not as a state which is part of a nation, but as a strange country …"
Announcing that "I was a weird kid," Michelle Richmond's captivating acceptance comments chronicled her path to becoming an acclaimed writer of fiction, essays, and memoir. Richmond decided to be a writer at age twelve during a lengthy recovery from an illness "with no school and a house full of Bibles." After recounting the story of how she met her husband while pursuing her MFA, Richmond looked around the room at fellow honorees, some of whom she has known for decades, and marveled at where their paths have taken them.
"Everything I've ever written is in Alabama," author Daniel Wallace stated, "… because I know how all the roads intersect." His entertaining comments included his ambition to write a book called, simply, Alabama: A History in which "nothing in it would be true" – a fitting goal for the author of Big Fish. He regaled the audience with the tale of his fascination with glass eyes, inspired by a childhood friend, Frank, who had one. He let the audience in on his jesting secret that "Don Noble is my father."
The video honoring Eugene Walter captured the mischievous wit and spirit of the multifarious career of the Mobile native who was at home all over the world. Bemoaning the tendencies of other Southern writers, Walter declared that "I couldn't do gloom and doom." He objected to the dictum to "write what you know," arguing that one should "write about what comes into your head." Walter's executor, Don Goodman, accepted the honor on his friend's behalf, and shared a charming story about inheriting a collection of Walter's mechanical birds which were, perhaps, haunted by the writer himself.
Journalist, writer, storyteller, and photographer Kathryn Tucker Windham wrote about many haunted things among her bevy of other topics throughout a literally "storied" career. In the ceremony's video introduction, Windham spoke of a Montgomery newspaper editor who bluntly informed her that "If you were a man, I'd hire you." Even so, she went on to have a distinguished newspaper career. In the video, she emphasized that "storytelling is a way of saying 'I love you'." Accepting the honor on her mother's behalf, Dilcy Windham Hilley shared remarks about the writing of Windham's final book, She: The Old Woman Who Took Over My Life, published posthumously by NewSouth Books.
Jeanie Thompson, Executive Director of Alabama Writers' Forum, offered closing remarks, thanking the many people who made the evening possible. Her final charge to the audience was simple: "Celebrate books," she said, "just celebrate books." The gathering was over, but the hopeful spirit it carried stayed with each person in attendance.