By Richard Rhodes
Doubleday, 2021
Hardcover: $30.00
Genre: Biography
Review by Edward Journey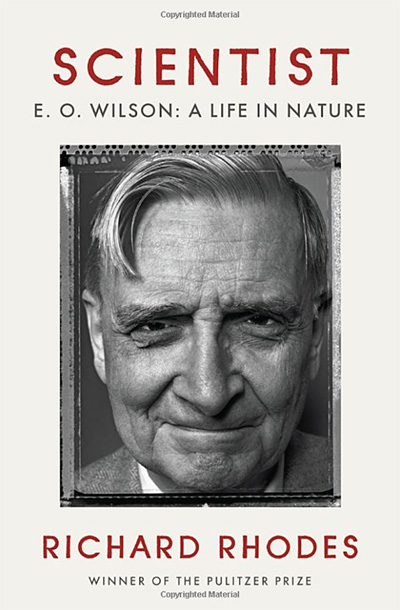 When author, biologist, ecologist, and naturalist E. O. Wilson died in December 2021, Alabama lost one of its most significant native sons. Wilson was born in Birmingham, grew up around Washington D.C., the Alabama and Florida Gulf Coast, and points in between, and made his initial reputation in myrmecology, the study of ants. He received B.S. and M.S. degrees in biology at the University of Alabama and his Ph.D. from Harvard, where he spent most of his professional teaching career. Known as "Darwin's natural heir," Wilson was ranked by the Britannica Guide to the World's Most Influential People as one of the most influential scientists of all time.
Edward Osborne Wilson was a talented and prolific author whose books ranged from scientific texts, to coffee table books, to one novel – called Anthill, naturally. It would be hard to find a more suitable biographer for Wilson than Richard Rhodes, whose twenty-six books tend to deal with science and scientists, including the Pulitzer Prize-winning The Making of the Atomic Bomb, and a biography of naturalist and painter John James Audubon. For Scientist: E.O. Wilson: A Life in Nature, Rhodes, who knew Wilson, was able to interview his subject and many of Wilson's colleagues and contemporaries; the biography is an accessible, sometimes sketchy, portrait of the scientist's life for scientists and lay persons alike. In an early chapter, entitled "Natural Selection," Rhodes provides a primer of Darwin's theory to provide useful context for Wilson's studies.
Wilson's is a singular and captivating story from the start. Partially blinded in a fishing accident as a boy, he was a child of divorce who attended fourteen different public schools from fourth grade to high school graduation. His partial blindness was an incentive for him to become interested in insects, particularly ants, because he could hold them up to his good eye and study them. At age thirteen, he undertook a full-scale survey of the ants in a vacant lot next to his Mobile home and was among the first to discover the presence of the imported red fire ant that had entered Mobile Bay from South America aboard a freighter, quickly spread across the South, and eventually became a national scourge.
From such a beginning, Wilson knows he is destined to be a field biologist and a competitive and aggressive scientist begins to emerge. When Wilson enters the University of Alabama, he comes fully armed with samples of research on the ants of Alabama and immediately attracts the attention of influential faculty mentors. Even after completing doctoral studies at Harvard, Wilson expresses appreciation throughout his life for the support he received as an undergraduate at the University of Alabama.
While at Harvard, Wilson meets his future wife, Bostonian Irene Kelley. Rhodes provides a charming account of the courtship and marriage of Wilson and Irene, whose wedding is delayed by Wilson's year-long assignment to the South Pacific to collect ants for the Harvard Museum. The engagement survives the long separation and Rhodes includes excerpts from Wilson's many letters to Irene that give evidence of his passion for both his work and his fiancé. "Once," Rhodes writes, "he had been happy to be entirely alone." With Irene, he finds a partnership that lasts a lifetime.
Among the most savory passages of Scientist are those that deal with the brutal intra-departmental academic politics at Harvard. As many who have worked in academia can attest, the politics, bickering, and jockeying for position can make the academic workplace a minefield. Scientist chronicles the ongoing conflict between James Watson, co-discoverer of the structure of DNA, and Wilson. Watson and Wilson start their teaching careers at Harvard at the same time and Watson denigrates field biologists like Wilson as "stamp collectors," fighting to turn Harvard's biology department into one focused exclusively on laboratory biology. When Wilson gets tenure ahead of Watson, there are accounts of Watson storming through the Biological Laboratories halls, shouting profanities, and screaming at the university president. Wilson turns down an attractive and lucrative offer from Stanford to remain at Harvard, but feels throughout his career that he is "more like an Alabamian in the North than a confirmed Harvardian."
In contrast to Watson's bluster, Wilson's soft-spoken and dignified manner often disguises his dogged determination. Rhodes writes of Wilson's series of audacious studies, including the controlled fumigation and elimination of all animal life on six small mangrove islets in the Florida Keys to study their rate of repopulation.  Rhodes details the controversy and outcry over Wilson's 1975 book, Sociobiology, which drew the wrath of colleagues who felt that Wilson was on the wrong side of the nature vs. nurture debate, accusing him of racism and worse for his application of certain evolutionary principles to humankind.
The Florida Keys project and the Sociobiology controversy are already detailed in Wilson's excellent autobiography, Naturalist, published in 1994. Wilson's lyrical and rich prose is exceptional among scientists and scientific writing and Rhodes quotes liberally from the book in Scientist. At times, the reader who is familiar with that autobiography might wonder if it's necessary to read the new biography. It is. Wilson's post-Naturalist and post-retirement career was as active as his years of teaching, with numerous publications, awards, and increasing environmental activism; Rhodes brings this story forward, providing valuable new insights into Wilson's fervent environmental consciousness and his daring "Half-Earth" proposal that half of the Earth's surface should be designated a natural preserve for biodiversity.
The life story and vision of Edward O. Wilson continue to have far-reaching and lasting impact beyond the scope of his myriad scientific achievements, and Rhodes is able to catch a significant glimmer of it by his copious use of quotations from Wilson's own writings. Beyond Wilson's talents as a scientist, his exceptional and expressive skills as a writer make his subject matter alive and pertinent for readers, like me, who have more rudimentary scientific knowledge. I find Wilson's life and work to be both enlightening and empowering, inspiring readers to believe that we all have agency to do something beneficial to protect our natural world. In Scientist, Richard Rhodes has provided a biography that whets the reader's appetite to dig deeper into Wilson and his visionary concerns about the future of our planet.
Edward Journey, a retired educator and theatre artist, is on the editorial board of Southern Theatre magazine, regularly shares his essays in the online journal "Professional Southerner" (www.professionalsoutherner.com), and has published reviews, papers, and articles in Alabama Writers' Forum, Arkansas Review, Southern Theatre, and Theatre Symposium.