By Ken Autrey
Evening Street Press; 2022
Paperback: $12.00
Genre: Poetry
Reviewed by Edward Journey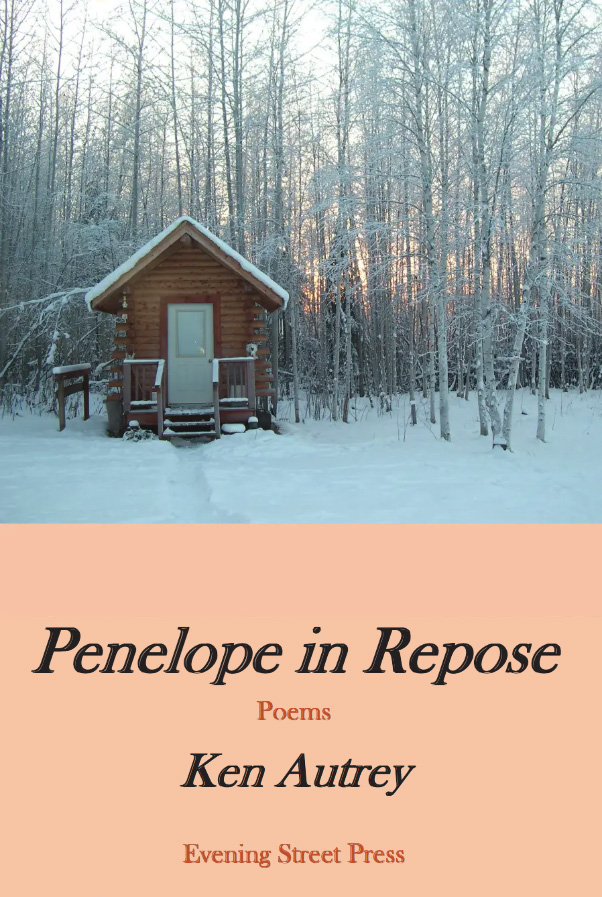 If an individual's life on Earth doesn't completely end until the last memory the world has of them has faded away, poet Ken Autrey has helped to extend the immortality of his sister-in-law, Penelope Debes, in the contemplative poetry of Penelope in Repose, the winner of the 2021 Helen Kay Chapbook Prize.
Penelope in Repose is Autrey's fourth published chapbook. An emeritus professor of English at Francis Marion University in South Carolina, Autrey's career includes stints in Ghana, Japan, and Mississippi. He and his wife, Janne, currently live in Auburn. Penelope in Repose is Autrey's attempt to better understand a sister-in-law that he barely knew and "to imaginatively reconstruct the final months of her bold, vigorous life, and to come to grips with the reality of her death."
The backstory of these poems is intriguing. After living in Alaska for twenty-three years, Penelope packed up and moved to Alabama, a state she had never visited, to live in a farmhouse fifteen miles from her sister and brother-in-law. Penelope's life in Alabama was agreeable until she was diagnosed with lung cancer that had spread to her brain. Her local relatives and other family became her caregivers. Eventually, she lived out her final days in Ft. Lauderdale. That framework provides the impetus for Autry's thoughtful and germane reflections on one woman's solitary life courageously lived.
The majority of the poems in Part I are written from a third person perspective. At times in these poems, Alabama and Alaska, present and past, collide as memory intrudes on the reality that Penelope faces. Even in the Deep South, Penelope is haunted by the Northern Lights of her Alaska past – "… lights that fill / the southern sky with such brilliance / she doesn't dare imagine sleep." The reader feels a quiet panic in the poem called "Lost," when Penelope takes a wrong turn in an unfamiliar place and continues to travel farther away from her intended destination; the reader, perhaps, panics, but Penelope moves on, worried mainly about her dogs and wondering "where she went wrong." That poem is immediately followed by the lyricism and calm of "Six Months after Chemotherapy, Penelope Releases an Owl."
The title poem that ends Part I of the collection evokes a gathering "Beside a bare Christmas tree." Those gathered contemplate time as "a strand / we follow … / oblivious to weather and the old dark / that is sure to overwhelm us." In Part II, Penelope's story is rendered in the first person and her character becomes even more present.  She says, "Regret is a potion I leave / for others." After family members shave their heads in solidarity with her chemo-induced hair loss, Penelope makes the perfunctory statement that "Now our hair has returned, / but we are not back to normal." Her pronouncements, searingly real, steer clear of manipulative emotion.
… It's the birds
I'll miss most. When my feeders are gone, they'll be
on their own to forage in woods and fields.
With Penelope in Repose, Ken Autrey has memorialized a graceful solitude that is dignified, peaceful, and purposeful in decline.
Edward Journey, a retired educator and theatre professional who lives in Birmingham, is on the editorial board of Southern Theatre magazine and regularly shares his essays in the online journal "Professional Southerner" (www.professionalsoutherner.com).