By Kent Quaney
University of Wisconsin Press, 2022
Paper: $18
Genre: Fiction
Reviewed by Michel Aaij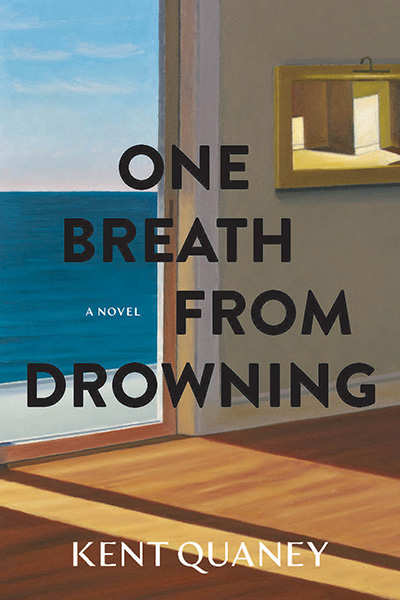 Kent Quaney comes to us by way of Utah, Australia, and Southern Miss; he now directs the Creative Writing program at Auburn University, Montgomery. One Breath from Drowning is his first novel: it's a fun read, light in tone but serious in content, and the promise of things to come.
The novel recounts the adventures, personal growth, and redemption of Ryan and Sam, two young men living in Sydney, Australia, who at the novel's starts have moved in together–but their past (in the case of Ryan) and present (for Sam) get in the way. It is structured mostly in chapters alternating between Ryan's and Sam's personae, providing interiority and shifting points of view; Quaney explained at a reading that this structure came about after much revision, and it works very well. Ryan is an American who's gone to Australia to start a new life and study drama–away from the LDS church whose atmosphere he finds stifling, especially since he is discovering his queerness: in Sydney he comes out as gay and begins a relationship with Sam. We find out later that he also left a wife behind in Utah. Sam is good looking, a bon vivant, a surfer, and a realtor, having flunked out of architecture school. But he's also a drunk whose loose sexual morals and lack of routine lead to a break-up with Ryan, and he's unsuccessful at selling real estate.
The first of a series of dramatic climaxes comes in the first chapter. Ryan, nervous on the night before the all-important audition at the start of his final year, leaves Sam, who came home drunk with a young man he picked up for a menage a trois. He spends the rest of the novel living with a friend, Katrina, an older actress who housed him in previous years–her ordered but passionate and determined life contrasts Sam's. Ryan and Sam get back together later and are on the verge of getting married (which comes with the benefit of Australian immigration papers for the American) when Ryan's past surfaces and the dream explodes. Meanwhile Sam has been plagued by financial trouble and is going down fast, propelled by alcoholism. His life changes dramatically when, after drunkenly committing an act of violence, he joins AA, despite his hesitancy to acknowledge his alcoholism and reservations about the program's religious aspect. Then he's fired from his job. His redemption involves coming to terms with all that and with his father as well, a man he disappointed but who has now himself come out of the closet and seems eager to make up for lost time. This strand adds texture to Sam's history, though it comes somewhat suddenly, since only Sam and Ryan get full stage presence. Ryan himself is trying to cope with his past, and one of the most touching scenes is when he attends an LDS service but is unable to join in fellowship, still having very mixed feelings about a church whose community is like a family he was born in to, but which does not unequivocally accept men like him. Both, thus, are trying to come to terms with a religious or semi-religious group which to some extent they feel ambiguous about but which also offers a chance at healing.
The novel is in some ways a light read–there are clubs and beaches and theater visits, and the writing is crisp and fast. The cover is great and appropriate, and makes the book look like it belongs in a beach bag, but there are also deeper, lonely moments. I found myself actually wanting more, a longer novel perhaps. Sam, for instance, teaches surfing to a young protégé, and I was hoping to hear more of that; Ryan, well I don't want to give it all away, but certainly the most difficult moment of his life, after the novel ends, would have been confronting his wife and explaining how he ran away without ever saying why. This desire for more makes sense: Ryan's friend and matron Katrina made her money in the 90s, playing a lead in a soap opera (if, like me, you grew up with your mom watching "Neighbours," this all makes perfect sense). The novel almost has a soapy feel to it, in the best way possible, like there could be a sequel with more narrative strands developing into full-fledged stories. In fact, one of Quaney's strengths is writing up characters that are multifaceted and interesting even if they are only sketched out, and at least a half dozen characters in this book could all feature in their own novel. I am certainly looking forward to Quaney's next book, whatever it may be.
Dr. Michel Aaij
Associate professor
Liberal Arts 357
Dept. of English and Philosophy
Auburn University Montgomery