By Jerry Brown, edited and with an introduction by Joey Brackner
The University of Alabama Press; 2022
Paperback: $22.95
Genre: Folk Art / Alabama / Biography
Reviewed by Edward Journey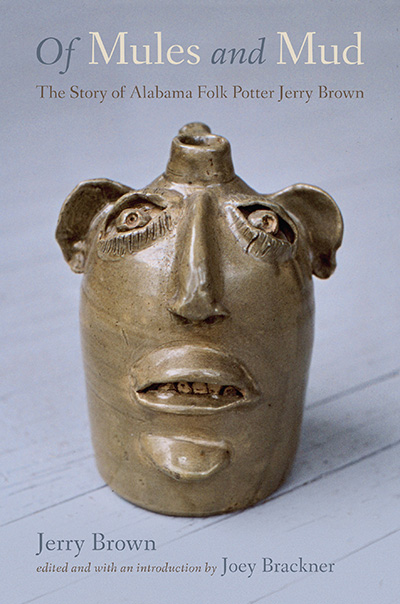 Anyone who had the opportunity to hear traditional pottery artist Jerry Brown hold forth at the Kentuck Arts and Crafts Festival, or other regional and national arts and crafts events (including the Jerry Brown Arts festival in Hamilton, Alabama), knows that nobody could tell Jerry Brown's compelling story as well as Jerry Brown himself. Brown left us in 2016 but his infectious voice lives on in Of Mules and Mud: The Story of Alabama Folk Potter Jerry Brown. 
Joey Brackner, whose Alabama Folk Pottery (2006) is the definitive text on the history and methodology of traditional folk pottery in Alabama, has compiled and introduced Brown's book, which is based on a marathon session of oral interviews with Brown over a weekend in September 2015. Brackner's introduction and epilogue provide valuable context for the story Brown tells in his own words. Brackner co-directed the 1986 film documentary Unbroken Tradition, an engrossing look at Brown's process. This decades-long relationship with Brown and his family makes Brackner, the former director of the Alabama Center for Traditional Culture, the ideal presenter for this informative and entertaining book.
Jerry Brown was born into "clay clans" on both his father's and mother's sides. These were extended pottery-making families who passed down their skills and styles from generation to generation. The Brown family was particularly known for their nonutilitarian "face jugs." As a small boy, Jerry and his siblings worked with their father, Horace "Jug" Brown, in traditional pottery-making, using mules to grind the clay and wood-fired kilns to "burn" the assorted pottery. As Jerry got old enough to strike out on his own, he declared that "I'll never be guilty of being in a pottery shop again" and worked at garment and trailer plants before going into a successful career in logging, where his knowledge of working mules was an asset in bringing logs up out of the woods.
In 1982, during a downturn in the logging industry, Brown made the decision to open a pottery business. It was perfect timing: Brown's Pottery in Hamilton started up at a time when national consciousness of traditional arts and crafts was on the upturn. Brown's skills quickly garnered attention and the National Endowment for the Arts named him a National Heritage Fellow for folk and traditional arts in 1992.
Jerry Brown is generous in his story, giving credit to those who taught him, especially his father, Jug, and uncle Gerald Stewart. Accepting the Alabama Folk Heritage Award in 2003, Brown cited his wife, Sandra, who is "involved in this as much as I am." He continued that "most of the time, the ladies in something like this don't get the credit they deserve." Brown freely gave of his time to teach his children and a younger generation to carry on the traditional pottery skills and his legacy lives on in today's Brown's Pottery and Sons, helmed by Sandra's son, Jeff Wilburn.
Of Mules and Mud is a creative working man's tale of hard work, challenges, and triumph. Brown's humility and stoicism are evident throughout, as are his wry wit and homespun wisdom. The book is peppered with entertaining jokes and stories; among my favorites are the story of a man who gets mad looking for his mule's rectum and an anecdote about the courtship of a woman who is hard of hearing and a man with bad vision. Brown's "spoiled mule" named Blue is a comforting presence; she loves shelled corn, but "she will not eat it unless you sprinkle salt on it."
There are plenty of intriguing passages throughout the book. Brown tells about doing a pottery wheel demonstration at his church during his preacher's sermon from Jeremiah ("Arise, and go down to the potter's house …") and amply shares his methodology and process. The reader learns about Brown's cornbread cookers, bacon cookers, chicken cookers, and egg separators as well as the Brown family's strategies for marketing them. There are photographs throughout the book and twenty-eight pages of photographs of Brown pottery toward the end.
I enjoyed reading Jerry Brown's story and digging deep into his book and his art. It's an absorbing story, well-told by a captivating narrator. Whether one has a particular interest in folk pottery or not, there is a story of family and tradition worth hearing in these pages. When it was over, I wanted to know more.
Edward Journey, a retired educator and theatre professional who lives in Birmingham, regularly shares his essays in the online journal "Professional Southerner" (www.professionalsoutherner.com).