By Edith Powell
NewSouth Books / University of Georgia Press; 2022
Paperback: $23.95
Genre: History
Reviewed by Edward Journey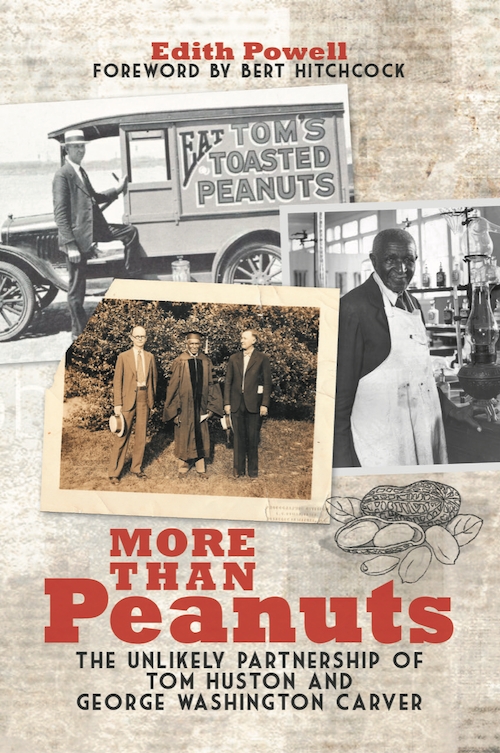 As a kid in Birmingham in the 1960s, I would ride my bike to Baker's, a tiny candy store in the neighborhood, and spend part of my allowance on Sweet Tarts, Lemonheads, Atomic FireBalls, and candy bars. I'd usually grab a sleeve or two of Tom's Toasted Peanuts and a Coke to pour them in.
In that decade after Brown v. Board of Education, my public school was still de facto, if not de jure, segregated. Even so, I was taught about the influence and importance of Alabama scientist George Washington Carver, born into slavery in Missouri, who became a preeminent agricultural scientist and inventor in the early twentieth century. As a scientist at Tuskegee Institute (now Tuskegee University), Carver's research into plants, soil depletion, and alternatives to cotton farming, such as peanuts and sweet potatoes, was crucial to Southern agriculture and won him international acclaim. Contrary to popular myth, Carver did not invent peanut butter, but he did publish "105 Ways of Preparing [the Peanut] for Human Consumption" in 1916.
These childhood memories come together in an ultimately engaging way in Edith Powell's new study, More than Peanuts: The Unlikely Partnership of Tom Huston and George Washington Carver. Powell, a retired professor of immunology and hematology at Tuskegee, has dug deep into the Tuskegee University Archives to put together an epistolary tale of the collaboration between George Washington Carver and Tom Huston, the Alabama-born founder of Tom's Toasted Peanuts in Columbus, Georgia.
Huston's initial letter to Carver, in 1924, solicits Carver's assistance in developing a method to put salt inside the peanut in lieu of salting them with oil on the outside. With the assistance of two of Huston's employees, Robert Barry and Grady Porter, Carver and Huston team up to identify and control diseases of the peanut plant, dispense valuable information to Southern agricultural extensions and growers, and ultimately get the sought-after attention and funding of the federal government. In the process, the team enhances the profile of the peanut. All of this is done with funding from the Tom Huston Peanut Company and the tireless pro bono efforts of Carver. In one letter, Bob Barry writes to Carver, "Don't you ever refuse a fellow?" Despite Carver's essential contributions to the project, both Barry and Porter frequently express their wish that he could somehow find a way to slow down.
The book provides a wealth of information about the peanut plant, its history, uses, and threats to its survival. When Barry inquires about ways to eliminate peanut hull waste, Carver, of course, has already done experiments to pulp hulls in his Tuskegee lab. Powell's book has the additional intent to feature the unexpected and culturally forward-thinking friendship between the three white men and the esteemed Black scientist in a time and place when such alliances were considered rare. Powell accomplishes this in a subtle manner by focusing on the work the team accomplishes and the seamless and trusting manner in which they accomplish it. She liberally includes samples of letters written among the group, which evolve from professionally friendly to warmly personal. In the process, lifelong relationships are formed, with the Tom's peanut men and their families visiting back and forth with Carver and Tuskegee. On at least one occasion, Carver travels to Georgia and enjoys a home-cooked meal with Porter's wife at a time when Porter cannot join them. In a note to Porter, Carver reports that he took leftovers and added that his driver "would not take any back and I have enough for my supper." It's hard to exaggerate how taboo the idea of a private dinner shared between a white woman and a Black man would have seemed to some in 1931.
In the larger picture, which provides insight into the hurdles the team faces, Powell recounts an incident involving a scorching letter from B.B. Higgins, a botanist at the Georgia Experiment Station, who writes Barry to challenge Carver's mycology (study of fungi) credentials, accusing a Carver bulletin of being "wrong" in "every single discussion." Barry's firm but amiable response and his defense of Carver set Higgins straight on Carver's credentials, stating that "you will see that Dr. Carver has not only located a great many old Fungi but has discovered some new ones that bear his name" and "we feel that Dr. Carver 'Knows his Stuff'." Ultimately, Higgins himself becomes a Carver collaborator and supporter.
Although Carver is always gracious and generous in lending his talents to Huston, Barry, Porter, and the peanut cause, receiving "no salary for his contribution to [the] entire project," his allegiance to his work on behalf of Tuskegee Institute is unstinting. In 1929, the Tom Huston Peanut Company, based in Ohio by then, offers Carver a position. In his letter declining the offer, Carver eloquently spells out his sense of commitment to Tuskegee and "my race." "I am clannish enough," he writes, "to want my people to receive credit for my work."
Powell has purposefully chosen to use the actual words of the principals, from their letters and documents archived at Tuskegee, as the throughline for her history of the Carver/Huston collaboration. As a result, one of the book's takeaways is an intriguing presentation of the lost culture of letter writing. The men's letters, both personal and professional—and occasionally hand-written—are invariably articulate, clear, and genial. They provide a glimpse into a more civilized and less frenetic form of communication that has mostly disappeared and, for many of us, is sorely missed.
More than Peanuts is not a story that will compel every reader, but Powell's study of an "unlikely partnership" is a surprising book. Becoming familiar with the personalities of the four men through their words, I found that the story becomes increasingly engaging and gains meaning beyond the four men's advocacy for peanut science and better sales. A helpful afterword to the book by Marceline Egnin, a professor at Tuskegee, provides additional perspective and contemporary context to the work that was done a century ago. Culinary-minded readers might also enjoy Carver's suggested menu for a six-course all-peanut meal, as well as his two recipes for peanut pudding.
Edward Journey, a retired educator and theatre professional who lives in Birmingham, is on the editorial board of Southern Theatre magazine and regularly shares his essays in the online journal "Professional Southerner" (www.professionalsoutherner.com).