By Bobby Mathews
Shotgun Honey Books; 2023
Paperback: $15.95
Genre: Contemporary Noir
Reviewed by Edward Journey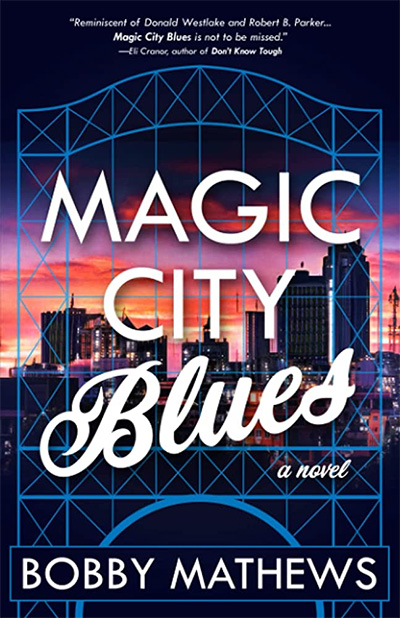 Crime writer Bobby Mathews knows Birmingham from back alley to bougie. His new book, Magic City Blues, explores the city in all its variety, serving at times as a travelogue as well as a hard-boiled whodunnit. Mathews's self-proclaimed "checkered past" includes award-winning journalism and short crime fiction; his crime novel about professional wrestling, Living the Gimmick, was published in 2022.
Magic City Blues is raucous and raw, focusing on the exploits of tough-as-nails Kincaid, a "muscle for hire" with a philosophical streak and a knack for smartass one-liners. Kincaid's first-person narrative is always entertaining; at one point, a problem he encounters "required thinking," he quips, "and thinking was my worst subject." He prefers problems that "can be solved with an application of well-timed violence." Magic City Blues, true to its genre, includes creative and well-timed violence in abundance.
The primary plot begins when Kincaid is summoned to the office of Carlton Doyle, a Birmingham crime lord, who hires Kincaid to protect his 24-year-old daughter, Abby. Abby proves to be an athletic, spoiled, and boozing charge. She's also elusive, and the plot revs up when Abby's frat boy fiancé turns up murdered on the floor of her pristine Pizitz apartment.
Forced to call the police to investigate the murder, Kincaid meets Laura D'Agostino, a detective with the Birmingham Police Department, and the attraction is grudgingly instantaneous between the cop and the tough guy. When D'Agostino is inexplicably pulled off the murder case, she goes rogue and teams up with Kincaid to get to the bottom of what's going on in Doyle's sleazy world. Along the way, they hit the highlights and lower depths of the Birmingham landscape and uncover a crooked development deal at the abandoned Carraway Hospital property (not to be confused, please, with the actual development deal at Carraway that was recently announced). What ensues is a non-stop caper that rings all the righteous crime noir bells.
Mathews has clearly paid attention to crime masters like Robert B. Parker, Donald Westlake, and Elmore Leonard. The tropes of good crime fiction are abundantly present, and Mathews's clear and clever approach renders them fresh and modern. Mathews captures the complexity of the city of Birmingham, which becomes an essential presence in Magic City Blues, while making frequent digs at gentrification, "white flight," and hipsters. The Collins Bar, Kincaid tells us, "is everything the hipsters want modern Birmingham to be … overpriced and bougie." Late at night, a downtown street smells of "the dank, complicated odors of the dark city." Kincaid delivers a warning to an adversary in a voice that is "as flat and hard as a Republican's heart." A massive thug falling during a fight becomes "a tree in the forest of a back city alley."
Magic City Blues has a surprising development lurking around every dark corner and Kincaid's narration provides a seedy point-of-view; he has a troubling tendency to contemplate whether he should kill those he beats up. Even so, he exposes his vulnerable side, confessing that "I'd been a solitary, lonely man for a long time." Kincaid has a likable bad boy charm that the reader can root for and that D'Agostino, despite her "good cop" cred, might possibly fall for.
Mathews populates his "Magic City" with well-drawn and memorable miscreants and locations. In Laura D'Agostino, he creates a worthy complement to Kincaid and a strong and independent cop. His villains are creepy and contemptible and familiar. Don't underestimate Abby Doyle, either; she carries a harrowing secret and emerges as far more than a petulant cipher.
Magic City Blues is a book that makes you want to overquote. Mathews has a knack for unobtrusive exposition and chapter endings that make you want to read just one more page. Once the reader is engaged, and for me that was immediately, it's hard to put the book down. Magic City Blues is a must-read for aficionados of crime fiction, and Mathews's clever and assured narrative skills make it a book that other readers will appreciate as well.
Edward Journey, a retired educator and theatre professional who lives in Birmingham, regularly shares his essays in the online journal "Professional Southerner" (www.professionalsoutherner.com).