By Carrie Chappell
Paris Heretics, 2022
Paperback
Genre: Poetry
Reviewed by Bee Baldwin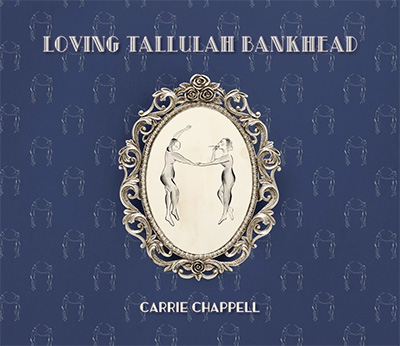 Carrie Chappell's Loving Tallulah Bankhead is an enchanting celebration of the non-conforming, untraditional, "fallen" women of the South with stage/film actress and Alabama native Tallulah Bankhead as its star. Tallulah starred in movies such as Alfred Hitchcock's Lifeboat and appeared as Catherine the Great in A Royal Scandal, and she was nearly Gone with the Wind's Scarlett O'Hara. However, despite this acclaim, Tallulah Bankhead has been viewed as anything but Alabama's darling due to her reputation as a wild party girl, avid civil rights supporter, and sexually liberated woman (all things a proper southern belle should not be, according to many).
With poet Carrie Chappell's piercing imagery and candid language, as well as artist Lauren Patterson's gorgeous illustrations which offer a fabulous visual component to the poetry, Loving Tallulah Bankhead commemorates the act of breaking away from the South's suffocating gender roles (or "Southern Belle Hell") and embracing one's own sexuality, individuality, and "ruined" nature.
In this book, the relationship between poet and muse is tangible and intimate. Tallulah is a physical presence in the poems as she stands at the side of the speaker as they wear only pearls in the Alabama night ("Tallulah Sits Beside Me on the Banks of the Cahaba River"), ride wild down Alabama highways and cartwheel like "nymphs" in "Tallulah and I Drive the Hoop Skirt," and share a bath together in "Lifeboat." Tallulah Bankhead is "a haunted house." She acts as another voice in the poems, showing off her quick-as-a-whip wit and humor in many of the pieces: "Well, certainly Alabama isn't all mud puddle! / Just look at me! Oh, Darling! Whatever chigger bit me, I bit back!" Tallulah Bankhead is alive once again in Chappell's poetry, untamed and boisterous as ever.
Despite it being nearly one hundred years since Tallulah was in the prime of her career, her home state of Alabama and its "southern values" have not done much to progress with the times. In many ways—as is noted by Chappell in her poetry—the South has held on tight to rigid societal expectations, racism, homophobia, and the patriarchy. The women who refuse to conform are labeled as ruined women, "no-no's" just like Tallulah Bankhead. Chappell expounds on how the (white) South's values become a prison for women by stating, "…I count the rings / Of shame in my jewelry box. I count the rings / Of shame in my mother's jewelry box. / Honor in Alabama must be a sparkling shackle."
Even though I was raised in Alabama and called it my home for the past twenty-three years, I'm embarrassed to say that I somehow never heard of Tallulah until I read this book. How could I, a queer Alabama native, not know anything about this self-proclaimed "ambidextrous," liberal, firecracker of a woman who came from Huntsville, Alabama? Even my mother, who was born and has lived in the Heart of Dixie for most of her life, did not know much about Tallulah Bankhead, and perhaps this is because of Tallulah's reputation within her home state. This is something that Loving Tallulah Bankhead makes very clear in its first poem: "I understood / Why the white women of my state had said no-no to her, / Why she was an artifact of the silver screen but no darling / Ginger Rogers, no bless-her-heart Vivian Leigh. / No-no."
Chappell dedicates Loving Tallulah Bankhead to the "spooky, ruined women of Alabama"; the women who do not fit the polite, perfect southern belle cookie-cutter mold their grandmothers and great-grandmothers welded for them; the women who think untraditionally, who live untraditionally, and who love untraditionally.
"I ask [Tallulah], Shall I choke them with my decency, / Nurture nurturing, or shall I kiss them shut, / As I spread these lines and wide open my wanton?"
Bee Baldwin is currently finishing up their master's degree in Creative Writing at the University of South Alabama. They have acted as editor-in-chief of Oracle Fine Arts Review, South Alabama's creative writing journal, and they have worked with the Stokes Center for Creative Writing.