By Rick Carter
Prairie Eden Music, 2021
$25, Paper; $9.99, Kendle
Reviewed by Danny Gamble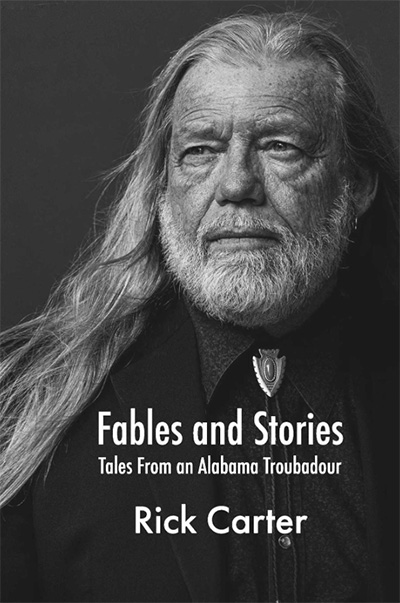 Anyone who has spent any time in the Wooden Nickel in Birmingham, The War Eagle Supper Club in Auburn, the Flora-Bama on the Gulf Coast, or any one of numerous music festivals and beer joints throughout the Southeast and beyond knows the name Rick Carter, or if not, they certainly know his music. Whether performing with Telluride, Rollin' in the Hay, or Franky Velvet and the Mighty Veltones, Carter and his collaborators have drawn accolades from his many fans and fellow travelers. He has opened for or shared the stage with such musical luminaries as Bob Dylan, Gregg Allman, The B52s, and many others.
Now he gets intimate with his audience in his new (with a slight distribution delay during quarantine) memoir Fables and Stories: Tales from an Alabama Troubadour.
Carter approaches his subject—himself—in a unique form. His chapters are a mixture of pithy epigrams, narrative vignettes, lyric poetry, and song lyrics—some related, others not so much.
His epigrams examine wasted time, unemployment, and audiences, among other topics. In "Misspent Time," he writes, "Misspent time in life is just rusty wisdom waiting for a new coat of paint." Now there's an epigram with imagery worthy of Richard Brautigan. "Unemployment" tells readers, "Being a musician is like waking up every morning feeling unemployed." "Listeners" speaks the truth to anyone who has performed in a saloon: I'd rather have 10 people who listen, than a thousand who were really just in line for a beer."
Buckle up—or not—for a trip from Selma to Montgomery with a carload of teenaged knuckleheads to see some rock & roll freaks perform in tights, boas, and hair teased out to here. Yep, it's April 6, 1971, and Alice Cooper is in town! The boys leave Selma with $21.97 in pocket, four $3.50 tickets, and a $15 lid of Mexico's finest. Oops, what's that behind them? A cop's blue lights. Oh, s**t.
A military brat, Carter traveled the world with his family. Without sentiment he celebrates his hero—his father. Carter writes in "My Dad":
You see, my Dad was cut from the cloth of 'serve and protect,' and he revered that as a way of life.  I will forever miss him and continue to understand him more and more every day.
Carter further celebrates his father in song. In "Sarge" he sings, "And way up in the wild blue yonder, the sky sure looks large / I've always loved old soldiers, and you're the best one, Sarge."
Gazing at the cover photo of Fables and Stories, one sees the grizzled face of a true road warrior, one, like his father, who refuses to go down without a fight. This book, often hilarious, sometimes poignant, chronicles what it is like to take guitar in hand and tackle the stage for audiences large and small. It should be a guidebook for anyone who hits the road and hopefully one day joins Rick Carter in song.
Rick Carter and friends recently recorded "Selma's Still Here," a single to benefit tornado relief in his hometown. https://rickcarter.bandcamp.com/. Danny Gamble writes from Montevallo, Ala.