By Charles Ghigna
Schiffer Kids, 2023
Hardcover: $24.99
Genre: Children's Poetry
Reviewed by Kelly Kazek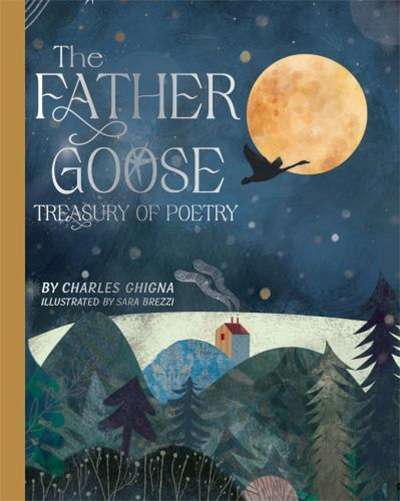 I was lucky enough to spend my childhood emersed in rhyme. Both from my maternal grandmother, a writer of children's poetry, and from the likes of Shel Silverstein and Dr. Seuss.
Being able to paint with rhymes is a superpower, one I'm certain is aided by mystical forces, and that is why Charles Ghigna needs a cape.
Ghigna, known as Father Goose because he has authored more than 150 children's books, can take a dozen words – just a dozen words – and make a painting a child can crawl into and spend the day.
The Father Goose Treasury of Poetry is a collection of 101 verses written by Ghigna, the master of verse, and beautifully illustrated by Italian artist Sara Brezzi.
Most of the poems are short, some only four lines, and they are divided into sections: Home, Winter, Spring, Summer, Autumn, Animals, and Poetry. Their brevity actually makes their impact more remarkable – with cleverness and whimsy, Ghigna pulls children into both familiar and faraway lands.
He writes in the poem "Air Ships":
Like silver sails on silver ships
A fleet of clouds floats by, then slips
Into its Milky Way lagoon
Beneath the lighthouse of the moon.
This rhyme was perfectly combined with Brezzi's dreamy drawing of a sailing ship passing before the moon, riding an atmospheric sea.
At other times, Ghigna plays with words to make children think in new ways about common occurrences.
In "Thunder Bugs," he writes:
On stormy nights
I often wonder,
Do lightning bugs
Make the thunder?
Children will especially love the Animal section, in which the rhymes touch on the independent nature of cats, the loyal nature of dogs, and describe turtles, possums, and armadillos. Readers will surely giggle at the thought of owning a "Monster Pet" – or "something mean and extra large."
Ghigna even makes reference to the place where he's most comfortable, his "tree house" writing space in Homewood, Ala., in the poem, "The Poet Tree House."
Ghigna is so gifted in using simple combinations of rhyming words to bring childhood events to life. They are sometimes clever, and often cleverly simple, but they always have rhythm and imagery that send a child on a journey. While there is plenty of humor here, the rhymes in this collection are dreamier and more effervescent than silly and impudent. Combined with Brezzi's beautiful patchwork style of painting, this is a wonderful collection to share with a child on a rainy day or in quiet moments.
Ghigna is prolific, with his verse published by, among others, Disney, Random House, Scholastic, as well as in dozens of magazines, but this collection is one for every library.
Father Goose has done it again.
Kelly Kazek travels the South's backroads writing about Southern culture for It's a Southern Thing. She is the author of the Southern Thesaurus and the upcoming Southern Handbook, ten children's picture books, two collections of humorous essays, and numerous books of regional history. She lives near Huntsville, Alabama.