By Whit Gibbons
The University of Alabama Press; 2023
Paperback: $22.95; eBook: $22.95
Genre: Natural History / Outdoor Recreation
Reviewed by Edward Journey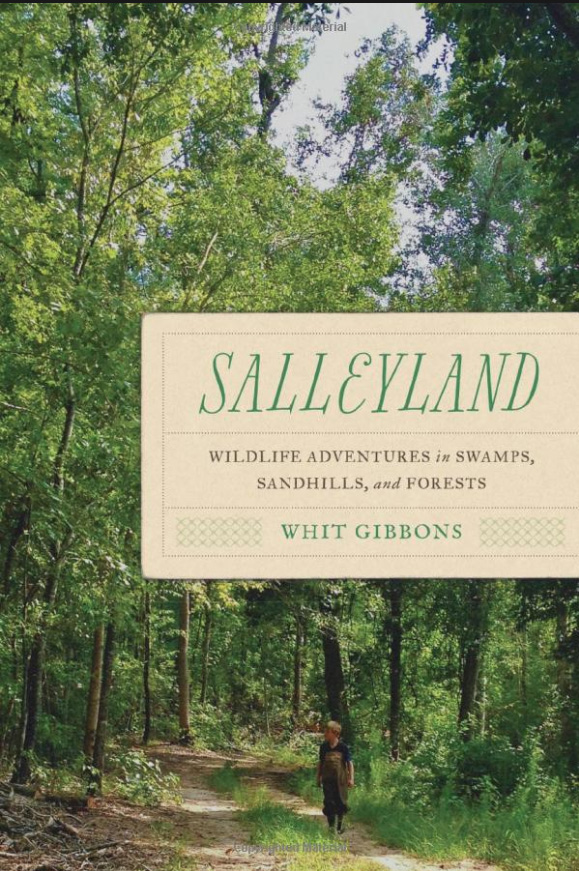 In the prologue to his recent book, Salleyland: Wildlife Adventures in Swamps, Sandhills, and Forests, naturalist Whit Gibbons states, "This book does not come close to being a memoir, nor is it intended to be." That prefatory statement might serve as a warning to any reader not fully invested in the rigorous amateur surveys of our natural environments that Gibbons advocates. Gibbons chronicles his and his wife's purchase of two thirty-five-acre tracts of "worthless swampland and second-, third- or fourth- growth hardwood forests." When one of his daughters and her husband purchase an adjacent thirty-five acres, the family have their own "Hundred Acre Wood, populated by a parade of Christopher Robins and friends."
Gibbons is a retired herpetologist, professor emeritus of ecology at the University of Georgia, and former head of Environmental Outreach and Education at Savannah River Ecology Laboratory. An Alabama native, he holds B.S. and M.S. degrees from the University of Alabama and a Ph.D. from Michigan State University. When the family built a cabin on their property in 2012 Gibbons became fully dedicated to documenting the impressive biodiversity of the humble abandoned farmland in South Carolina that they named "Salleyland."
An entire chapter of Salleyland is devoted to the idea of chance encounters and the embrace of serendipity. Even so, Gibbons's narrative flow can be overcome by his pedagogical vocation; he can't resist urging an "understanding that no serendipitous encounters will go uninvestigated." Throughout Salleyland, Gibbons comes across – perhaps unintentionally – as a stern taskmaster, making lists of things the reader should do to make the most of the outdoor experience, whether in a national park or in a residential back yard. As he lays out his goals for exploration of Salleyland, he muses that "People should say 'it's not ecology' instead of "it's not rocket science'."
Still, Gibbons's excitement is often contagious as he discovers canebrakes and beaver dams, glow-in-the-dark millipedes and synchronous fireflies (I like that he still calls them "lightning bugs"), and other surprises of flora and fauna on property that some might deem of little worth. He encourages the reader to visit a swamp at nighttime and describes his own nighttime trek with a "fearless seven-year-old" grandson with hopes of spotting a cottonmouth.  His lyrical and lush description of the phantom crane fly makes me want to rush out and seek a sighting. His first sighting of deer on Salleyland is accompanied by the reminder that deer sightings were not so common in the Southeast even a half-century ago.  Sixteen thousand long-leaf pine seedlings are planted on the property to help reverse the excessive timbering that decimated millions of acres of the longleaf pine-sandhill ecosystem in the region. Gibbons shares his elaborate observational preparation for himself and his guests for the 2017 total solar eclipse and his delight to find solid evidence of Native American activity on the land centuries prior to European colonization.
Gibbons is engaging and self-deprecating from the start and enthusiastically recruits family, friends, experts, and classes in various scientific disciplines to join him on his expeditions and surveys. His oldest grandson, Parker Gibbons, is a frequent presence in the book – a skilled and intrepid outdoorsman who is equally adept at guiding older college students on their Salleyland quests and jumping into creeks to come up with a non-poisonous snake to show.
Gibbons reminds the reader that "the living world is around us wherever we go and is waiting to reveal its secrets." Salleyland often serves as a guide for getting students engaged in nature study – teachers should find value in it. The book is also of value to anyone wanting to fully discover and explore the environment around them. Gibbons encourages everyone to take field notes and gives instruction on setting up wildlife cameras. Most of all, Salleyland is a reminder to observe all nature with awe and respect. In regards to his "ownership" of Salleyland, Gibbons makes clear that "I knew I was the one who was the visitor."
Edward Journey, a retired educator and theatre professional living in Birmingham, regularly shares his essays in the online journal "Professional Southerner" (www.professionalsoutherner.com).