Poems by Hank Lazer; Music by Holland Hopson
BlazeVOX, 2021
Paperback: $20.00
Genre: Poetry
Review by Edward Journey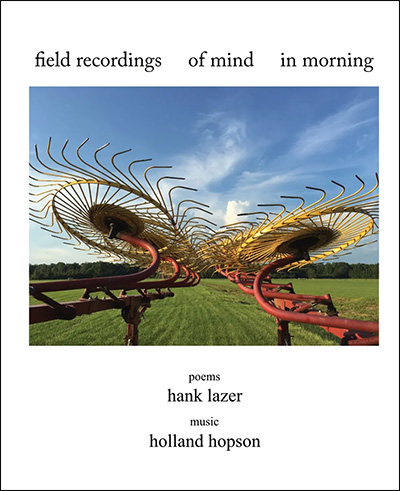 The last time we checked in with poet Hank Lazer, author of thirty-two books of poetry and 2015 recipient of the Harper Lee Award, he was pondering themes of plague and survival, anger and calm, and life under a wannabe American autocrat in COVID19 SUTRAS. Lazer's newest book, field recordings    of mind    in morning, includes writing in a less turbulent vein from pre-pandemic 2018 and 2019. With field recordings …, wisdom and solace emerge on every page, despite acknowledgements that "a planet in peril" dictates that "noticing is no longer enough." On this planet, Lazer presciently writes, "we were / an entertaining / violent / short-sighted / interruption."
At Duncan Farm on 7/5/18, Lazer evokes a time that is "quiet enough / so that / thinking / becomes / writing." Such quiet moments permeate Lazer's poetry in which an awareness of the minute quietly yields to the profound. These poems lack titles, but each is marked by the date on which it was written and, usually, the place. The majority are composed in the peace of Duncan Farm ("this restorative morning"), a family farm near Carrollton, Alabama. Others are written in New Orleans, Florida, San Francisco, and Paris. The poems are dated from April 2018 to October 2019. The more recent compositions comprise part 1. Parts 2 through 6, predating part 1, are presented chronologically.
Hank Lazer, who has always been a collaborative multi-media artist, provides links to fifteen audio tracks from field recordings … in the book. Lazer's amiable voice is accompanied by the music of sound artist, composer, and musician Holland Hopson. To hear the poet speak these poems is to hear them breathe. Hopson's music ranges from intimations of Asian strings to American bluegrass and provides a grounded accompaniment to Lazer's intimate themes.
On the opening page of part 1, Lazer writes, "i live in the present moment of my reading / i live in the present moment of my writing // and each becomes a way." It is Lazer's way to quote from texts he is reading as he writes.  field recordings… is seasoned with quotes from 13th Century Zen Buddhist Eihei Dogen's Shobo Genzo, a key Zen Soto document. The poems are meditative, often considering the related themes of aging and immortality. "living now / must be / elegiac," Lazer writes; indeed, some of the most powerful poems are in memory of those who have passed ("who are / these ones / that once / i knew / who are / no more"). "who will tell me (7/19/18)," for musician Davey Williams, and "& so / these morning things arise (10/25/18)," in memory of Ilene Duncan, are elegies that transcend their individual moment. Such profundity is leavened by joy in the present; Lazer expresses gratitude for morning coffee: "the full flavor / of this lukewarm / moment in time." In the chaotic world in which we live, Lazer finds his moments at all levels of being.
As the daily meditations proceed, the reader discovers recurring motifs that bind and solidify the poems. For example, three brown dogs make occasional appearances, separately and together, and become touchstones for the reader. The dogs are observed "absolutely at rest," "aging at [their] own pace," "barking at / dawn," "running & leaping through / tall grass," "patient in their perfection," and more. The three brown dogs seem incidental, at first, but they become totemic in their reappearance and are a stabilizing presence in the book. The phrase "three dogs / at rest beside / the writing desk" leads to a sly tribute to William Carlos Williams's "The Red Wheelbarrow" at one delightful moment.
field recordings    of mind    in morning is an extraordinary collection to read and to listen to. It awakens the senses, heightening awareness in ways that are timeless, grounding, and inspiring. One gradually becomes aware of masterful patterns and repetitions which reveal themselves in the process of reading; they become more urgent as the poems progress and the attention to nature and the precise descriptions of the surroundings of the everyday slow the reader down to ponder the significance of a varied accumulation of images and reappearances. For example, those three haunting brown dogs.
Edward Journey, a retired educator and theatre artist, is on the editorial board of Southern Theatre magazine, regularly shares his essays in the online journal "Professional Southerner" (www.professionalsoutherner.com). and has published reviews, papers, and articles in Alabama Writers' Forum, Arkansas Review, Southern Theatre, and Theatre Symposium.