By Kelly Kazek
Alabama Media Group, 2022
Hardcover, $17.99
Children's Literature
Reviewed by Karen Hilgartner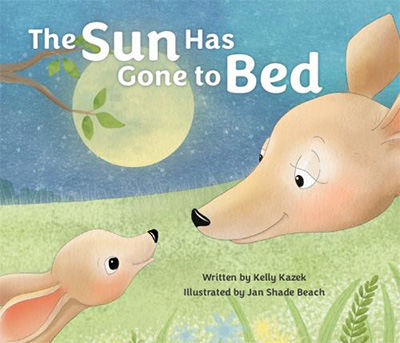 In Kelly Kazek's wonderfully engaging and beautifully illustrated picture book, The Sun Has Gone to Bed, parents of young children will easily relate to the familiar bedtime struggle. Bedtime approaches and Mama Deer reminds Little Spotted Fawn that "when the sun goes to bed, it's time for you to go to bed, too." Little Spotted Fawn's response: "But I'm not sleepy yet."
Little Spotted Fawn's character leads the way in this story, followed by her mother, as she scampers through the forest in her quest to follow the setting sun and delay her bedtime. What follows with each turn of the page is a progression of colors across the twilight sky—beautifully rendered by illustrator Jan Shade Beach—with Little Spotted Fawn naming the colors she sees as she runs toward the horizon in the fading light. Mama Deer is close behind, reminding her that it's "time for bed." "But, Mama," Little Spotted Fawn objects, "I still see the sun." (Apparently, stall tactics work for little fawns, too!)
As the sun fades and the sky turns a deep shade of blue, a bleary-eyed Little Spotted Fawn settles down in Mama Deer's embrace, claiming that she is still not sleepy and that the "sun" has now turned white. As Mama Deer tries to explain that the dazzling white orb is not the sun but actually the moon, Little Spotted Fawn gently closes her eyes.
The best children's picture books combine engaging illustrations with a well-constructed story and often a subversive element. The Sun Has Gone to Bed is such a book, passing the young child's "Let's read it again!" test so familiar to parents and grandparents alike and confirmed in this case by this reviewer.
Kelly Kazak is a children's book author, an editorial writer for AL.com, and the impetus behind "It's a Southern Thing" productions. She has published 19 books, including picture books, tales from her days as a reporter, and books about Southern culture. She has won more than 150 state and national press awards, including first place for humorous commentary from the National Society of Newspaper Columnists in 2022. She lives in the Huntsville area.
Jan Shade Beach is an illustrator and the creator of whimsical animals and beautiful cards. She is best known for her holiday characters and is licensed with 25 companies in the gift industry. She lives in Huntsville.
Karen Hilgartner is a retired early childhood educator who lives in Montgomery and frequently follows the sun and her grandchildren to various locations, especially to read wonderful books.