By James R. Hansen
Simon & Schuster; 2023
Hardcover, $28.95
Genre: Nonfiction
Reviewed by Don Noble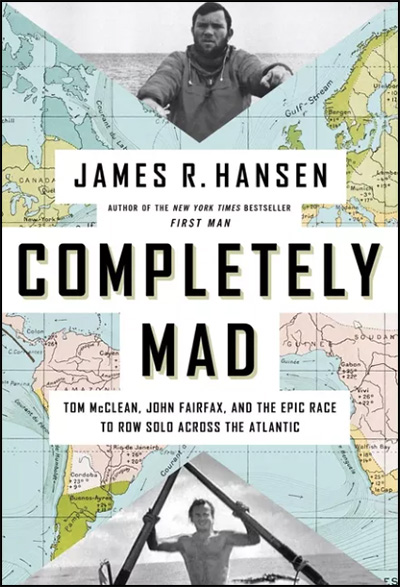 James R. Hansen is professor emeritus of history at Auburn University, now living in Birmingham. He is, by profession, an academic, but his subject matter, over 14 books, has been the most exciting imaginable, including a biography of Neil Armstrong and a book about the Challenger disaster. His new book, Completely Mad, is the day-by-day story of two very different men who, really by chance, were vying to be the first person to row across the Atlantic Ocean, alone.
In 1969, Tom McClean took off from Newfoundland, bound for Ireland, and John Fairfax in his little rowboat started at the Canary Islands, off the coast of Africa, and headed for Florida. It was not exactly a race. Fairfax had started off well before McClean and was at sea a lot longer, 180 days vs. 70, but landed in Hollywood Beach before McClean landed in Blacksod Bay, County Mayo, so Fairfax sort of "won."
What the two men endured was very similar and is exhausting even to read about. They rowed for hours every day. Physically, they were all but destroyed. Their backs, their hands, were strained and blistered. Both were wet a great deal of the time. High winds and waves, sometimes 50 feet high, threatened to sink their boat and in fact, their boats did capsize more than once. There was always the danger of being crushed to splinters by a ship that never saw them. For Fairfax especially, in warmer waters, there were sharks. He fought them, stabbed them, and often ate them. McClean, in the North Atlantic, nearly lost his perpetually wet and frozen feet.
Both had planned well. Fairfax expected to be aided by the east-to-west trade winds and McClean by the Gulf Stream, but they both endured agonizing frustration when the winds blew the wrong way, sometimes for days, and 12 hours of rowing would get them nowhere. Sometimes, they lost ground, so to speak. Their dried, prepackaged food was nutritious, but fantastically repetitious. Fairfax actually threw a lot of his overboard to lighten the boat's load and caught and lived off fish.
Hansen gives a good deal of biographical material, and the contrasts are striking. McClean was raised in an orphanage, served in a British Army paratroop unit and then in the even more elite SAS, an international strike force like Navy Seals. Fairfax was a bit of a ne'er-do-well. He may have been a smuggler and pirate in the Caribbean. (Both he and McClean would row again, with Fairfax and his girlfriend Sylvia Cook rowing across the Pacific.)
Several times Fairfax went aboard freighters for hot showers, great food, drinks. Hansen is mildly scornful of these breaks from purity. He admires McClean's absolute integrity, refusing all offers to board ships he met at sea. Afterward, McClean built and ran an outdoor adventure camp in Scotland. Fairfax became a professional gambler in Las Vegas.
Don Noble taught American literature at the University of Alabama for 32 years. He has been the host of the APTV literary interview show "Bookmark" since 1988 and has broadcast a weekly book review for APR since November of 2001, so far about 850 reviews. Noble is the editor of four anthologies of Alabama fiction and the winner of the Alabama state prizes for literary scholarship and service to the humanities, as well as the Governor's Arts Award. A version of this review first appeared on Alabama Public Radio.