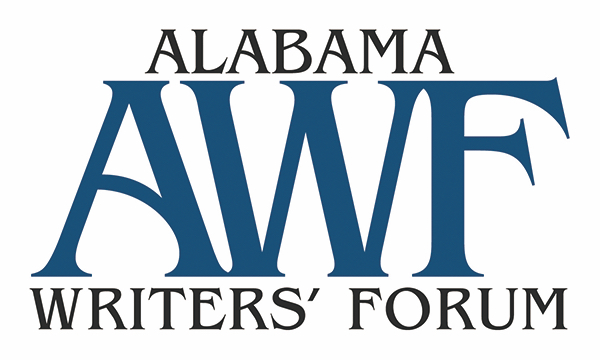 A partnership program of the Alabama State Council on the Arts
June 2023 Newsletter
SOUTH ARTS ANNOUNCES LITERARY ARTS FELLOWSHIP
South Arts recently announced the Southern Prize and State Fellowships for Literary Arts. A new initiative supporting the field of letters, it offers a total of $80,000 in awards. A $5,000 fellowship will be awarded to one writer from each state in the South Arts region, which includes Alabama. The first cycle is open to writers of fiction, while other genres will be eligible in future years. The deadline is August 4, 2023. Find out more at Southern Prize and State Fellowships.
TSU AWARDS HALL-WATERS PRIZE FOR EXCELLENCE IN SOUTHERN WRITING
Renowned poet Terrance Hayes, a 2014 MacArthur Foundation Genius Award recipient and National Book Award winner, was awarded the 2023 Hall-Waters Prize by Troy University in April. Hayes, currently professor of English at New York University, is "an astonishingly versatile poet and essayist," notes Dr. Kirk Curnutt, chair of English at TU. "The Hall-Waters Prize is endowed by Troy alum Dr. Wade Hall as a memorial to his parents, Wade Hall Sr. and Sarah Elizabeth Waters Hall. It is presented regularly to a person who has made significant contributions to Southern heritage and culture in history, literature, or the arts.
AWF SUMMER FUNDRAISING APPEAL
We know that no matter where you live and work in the lively, vibrant world of Alabama letters, you value the work and advocacy of the Alabama Writers' Forum. Over halfway through our FY23 Fiscal year, we heartily thank you for your sustaining membership or donation to promote the literary arts in Alabama.
We are asking that you consider making an additional gift or renewing your membership early. Your extra gift will strengthen our matching dollars for upcoming statewide grant applications and provide much needed discretionary funds. Please go online at https://writersforum.org/donate-to-the-forum/. Because we are a registered 501(c)3 organization, your donation is completely tax deductible.
Your gift will ensure that you make a difference for writers, readers, teachers, and all members of Alabama's literary community! Thank you!
WRITING OUR STORIES SPRING 2023
Three Writing Our Stories programs—Vincent Middle High School in Harpersville, Columbiana Middle School, and P.O.I.N.T.E. Academy/Strickland Youth Center in Mobile—wrapped up the academic year this spring. Writing Our Stories, now in its 26th year, is proud to have three new publications of students' work to share. Click here to see more about the program and WOS publications.
CAVE CANEM HOSTS WORKSHOP IN MONTGOMERY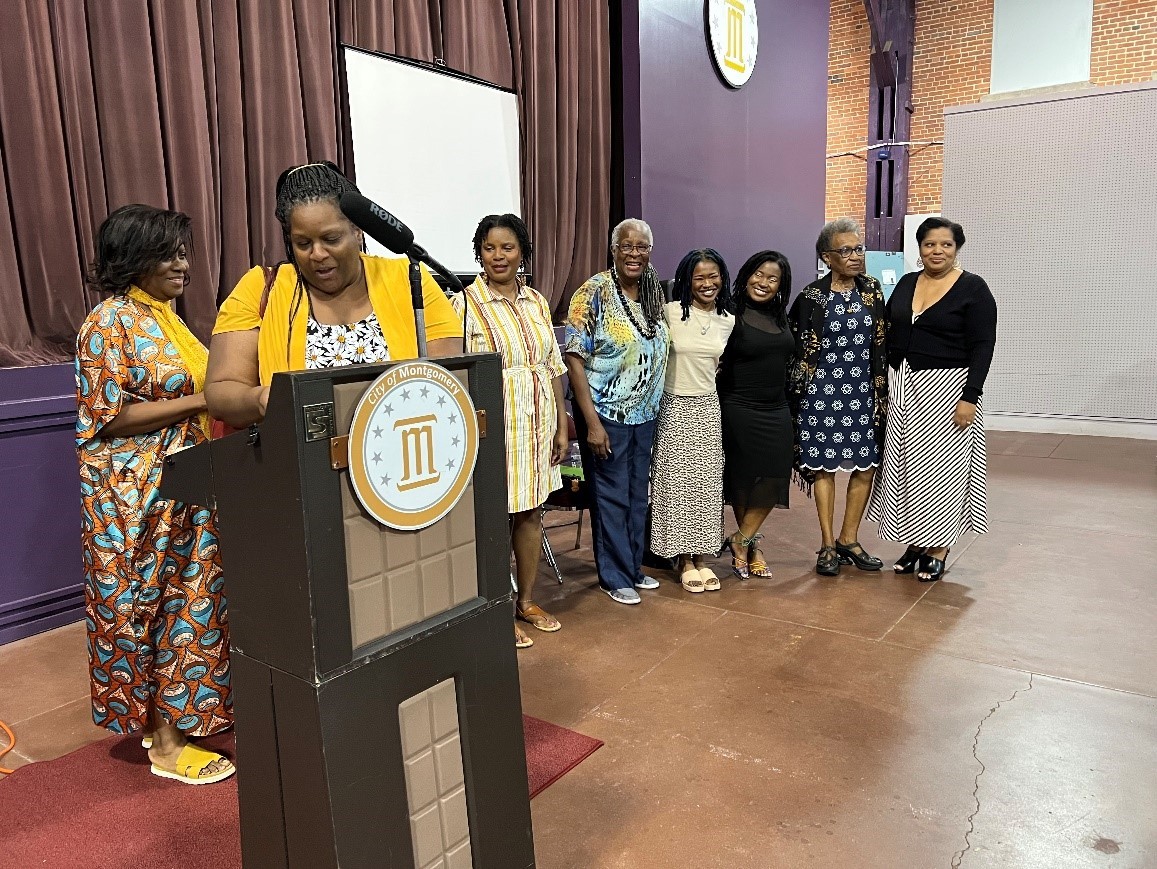 This spring
Cave Canem
sponsored "The Self as Inspiration: Looking Inward to Explore the Larger World," a workshop with Jacqueline Trimble, in Montgomery. Cave Canem, founded in 1996 by Toi Derricotte and Cornelius Eady, is a nonprofit organization committed to cultivating the artistic and professional growth of Black poets. The Montgomery workshop was one of only three offered this spring by Cave Canem. It culminated in a public reading at the Armory Learning Arts Center in Montgomery. Pictured above are workshop participants and Trimble (far right).
MILESTONES AND MEMORIALS
ALABAMA WRITERS COOPERATIVE CELEBRATES 100!
Founded in 1923, the Alabama Writers Cooperative will celebrate 100 years at its upcoming conference to be held September 8-10 at the O'Neal Public Library in Mountain Brook. Workshops will cover a variety of genres, from children's/YA to screenwriting to poetry and nonfiction, among others. For more information about AWC and the September conference, visit Alabama Writers Cooperative.
IN MEMORIUM
The Alabama writing community mourns the passing of Aileen Kilgore Henderson. The award-winning author's first book, The Summer of the Bonepile Monster, was published in 1995, when she was 74. It won the Milkweed Prize for Children's Literature and was followed by many other books, including novels for young readers, memoirs, and a biography of Alabama's first state geologist, Eugene Allen Smith's Alabama: How a Geologist Shaped a State. Henderson died in April in Tuscaloosa. She was 102.
Alabama lost two other notables this spring: Don Goodman and Chervis Isom. Don Goodman served as the late Eugene Walter's literary executor. Walter, a beloved writer, cook, and bon vivant, died in 1998. Goodman was surprised to learn that Walter had left him in charge of his estate, but he accepted the assignment and over the years worked to ensure Walter's estate was properly placed and his reputation was preserved. Goodman served as co-editor of The Happy Table of Eugene Walter, a collection of Walter's recipes and writings published by UNC Press in 2011. In March, he was on hand at the Alabama Writers Hall of Fame to accept Walter's induction. Goodman was a native of Alabama and grew up in Tuscaloosa. He and his wife lived in Minnesota at the time of his passing.
Chervis Isom, a former member of the Alabama Writers' Forum board and author of The Newspaper Boy: Coming of Age in Birmingham, Alabama, During the Civil Rights Era, passed away in May while on a family trip to the Loire Valley in France to celebrate his 60th wedding anniversary. Born in Hodges, Alabama, in 1939, he grew up in Birmingham and went on to become an attorney and practice real estate law for more than 50 years. He was known for his commitment to community and public service, and his family remembers that his favorite question was "What book are you reading?"
The Forum extends condolences to the family and friends of these three remarkable literary citizens.
Each month the Alabama Writers' Forum posts book reviews of works by writers who live in or have ties to the state and works of interest to Alabama readers. This month features Carrie Chappell's Loving Tallulah Bankhead, published by Paris Heretics; Susan Cushman's collection All Night, All Day: Life, Death, and Angels, featuring many Alabama writers; and Kelly Kazek's funny—and helpful!—Southern Thesaurus: For When You're Plumb Out of Things to Say, among others.
Please let us know about your new book! Ask your publisher to send a review copy to Alabama Writers' Forum, P. O. Box 4777, Montgomery, AL 36103-4777 or share your book information with Jay Lamar, jaylamar@writersforum.org. AWF is also seeking reviewers, especially for poetry and children's/YA titles. Reviews are approximately 700 words and pay $75. Contact Jay to find out more.
AWF CALENDAR
The AWF calendar of events is growing! Check out information on readings, book signings, workshops, and publication opportunities, such as former Bitter Southerner editor Chuck Reece's new Salvation South. Be sure to add your events at AWF calendar.
AWF NEWS AND NEWSLETTER
AWF wants news! Send information about workshops, contests, prizes, publications, and events to writersforum@writersforum.org.