By Ann Bedsole
Hardback: $26
Paperback: $14.50
Reviewed by Don Noble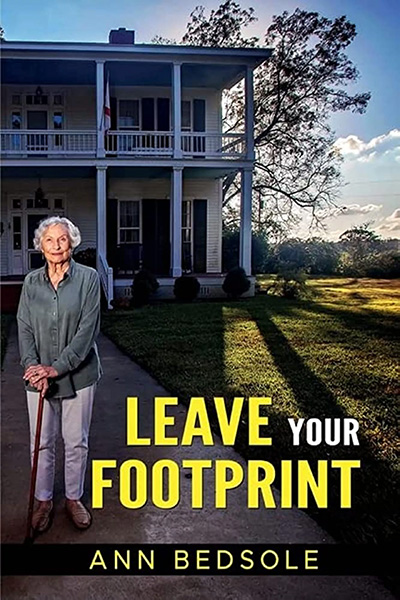 Like many of us, Ann Bedsole felt it wise to stay close to home during the COVID pandemic. Rather than just killing time while avoiding dying, she decided to use the enforced seclusion to write her autobiography, and the result is more revealing and candid and amusing than one would expect from a very well-known public figure. Born in Selma, in 1930, but raised mostly in Jackson, Alabama, Bedsole had a "glorious," "wonderful" childhood. These days, when most memoirs and autobiographies are sagas of pain, that is a rarity.
In 1935, her father, the manager of a sawmill, made the "bold move" to buy a sawmill. Over time, White Smith would own several mills and 60,000 acres of timber. Bedsole and her sister "idolized" their father, a handsome, six-foot one-inch authoritative man who told his daughters repeatedly—girls could do anything boys could do and "don't go through this life and not leave something of value. Don't forget to leave your footprint." Bedsole has certainly done that.
The story moves through her childhood, with summers at a much simpler Gulf Shores, with the polio scares we all experienced pre-Salk, to her first marriage. Although it pains her to say so, her first marriage was brief and ended in divorce, and her second husband was not the love of her life. If Bedsole can be this candid about her marriage and family, it is no wonder then that she speaks her mind about the politicians she knew while serving in the Alabama House and then Senate. She is, as all Alabamians know, one of the founding mothers of the state Republican party. Her low opinion of George Wallace fueled some of that. He was "embarrassing, mean-spirited, and race baiting."
She also felt that needed doing because of the ferocious corruption of the Democratic party. Voter fraud was rampant and obvious. Eisenhower, a very popular candidate, got no votes in Leroy, Alabama – none. The Democratic boss there said so.
As Bedsole's political career moved along, she would have conversations about how many votes she would be "allowed" in Washington County. Voting machines, thankfully, put a stop to the worst of the voting corruption. As one of very few, or at times, the only woman in the state Senate, she has a lot to say about misogyny, obvious and harsh. She persevered, however, even when told often, to her face, women should not ever serve in government. Her favorite Democrat of all time was Bill Baxley who "treated everyone decently" and comforted Bedsole in her losses: in Alabama, he said, "the dumbest one always wins."
Less amusing, but massively impressive, are the civic achievements of Bedsole's post- political life. The list is immense: valuable natural conservation work and the founding of the Alabama High School of Math and Science. She organized the Mobile Tricentennial and established the Family Village for homeless women, and much more. Even now, at 93, Bedsole is, she insists, not quite done leaving her footprint.
Proceeds from the sale of Leave Your Footprint will be donated to the Sybil H. Smith Family Village. The facility, named after Ann's mother, provides transitional housing to homeless women, most with children, as well as support services.
Don Noble has been the host of the APTV literary interview show "Bookmark" since 1988 and has broadcast a weekly book review for APR since November of 2001, so far about 850 reviews. Noble is the editor of four anthologies of Alabama fiction and the winner of the Alabama state prizes for literary scholarship, service to the humanities and the Governor's Arts Award. This review first appeared on Alabama Public Radio.