The Gold-Plated Scarab &Other Stories
By Norman McMillan
GreyWalk Books; 2022
Paperback: $16.00
Genre: Short Fiction
Reviewed by Edward Journey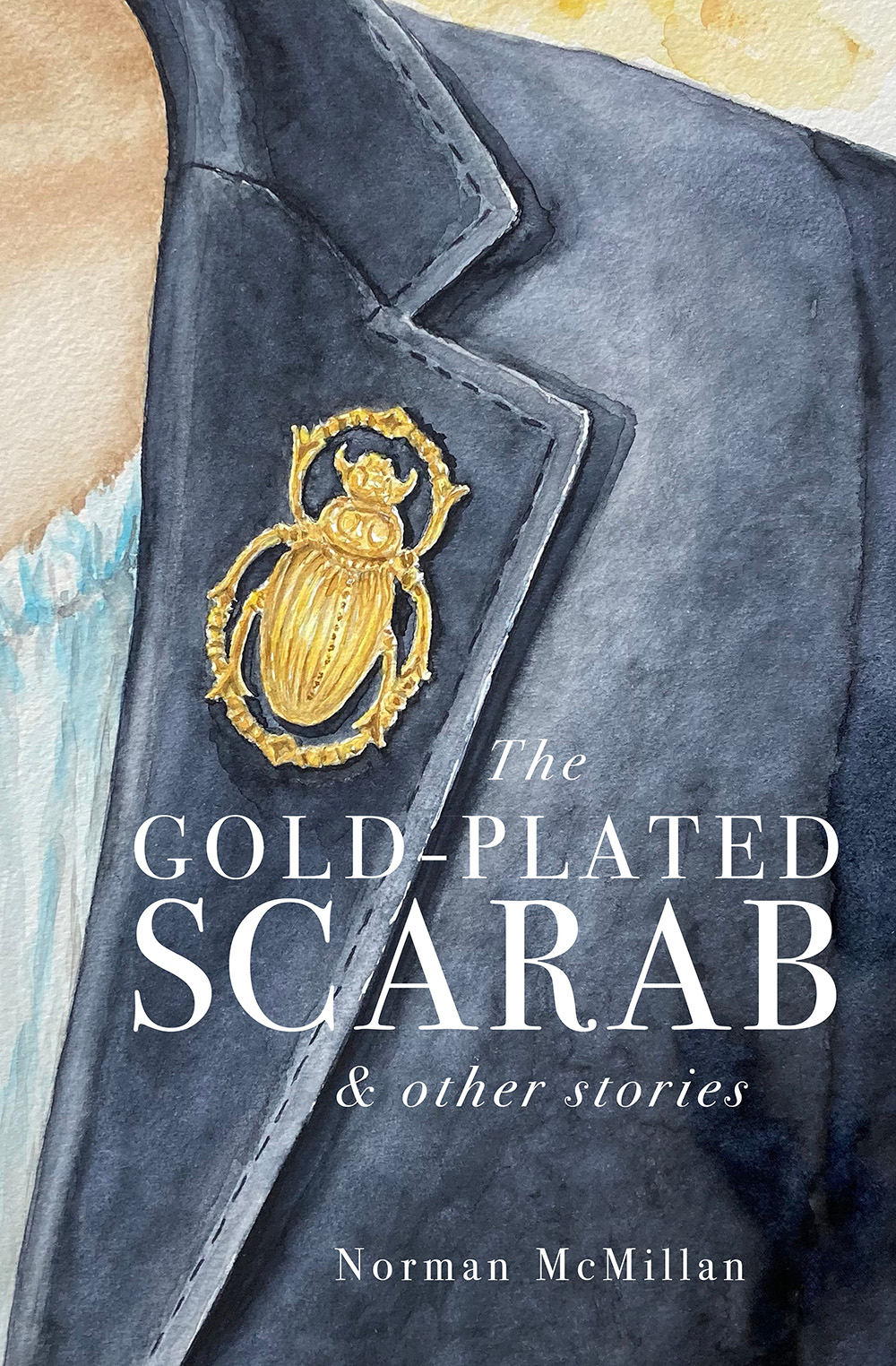 In Norman McMillan's short story "The Waiting Room," a man named Ted sits in an outpatient surgery waiting room while his wife undergoes a procedure. He is trying to take notes on Alexander Pope's poem "An Essay on Man" in preparation for a class the next day. Ultimately, Pope can wait as Ted spends the time observing the diverse cast of characters who come and go, chatting away, with Ted feeling increasingly isolated in the process. As he leaves the waiting room to see the doctor, "it struck him powerfully that everyone waits for his own exit, but the crowd of waiters goes on forever." The story subtly illustrates Pope's dictum that "the proper study of Mankind is Man."
Norman McMillan is a shrewd and insightful chronicler of human character, especially of the Southern variety. "The Waiting Room" is one of eight engaging and well-crafted stories and one personal essay in The Gold-Plated Scarab & Other Stories, a fine addition to McMillan's creative output, which includes his 2002 memoir, Distant Son: An Alabama Boyhood, and two notable stage plays, Against a Copper Sky, about Truman Capote, and Ashes of Roses, a moving adaptation of short stories by Mary Ward Brown. Now retired, McMillan was an English professor at the University of Montevallo for many years.
The stories of The Gold-Plated Scarab were written over the course of fifty years. I found myself wondering about the time frame in which each story was written, based on timely hints that are scattered throughout the narratives. In "The Waiting Room," for example, coverage of the burial at sea of John F. Kennedy, Jr. and his wife is playing on the waiting room television. Su-Yin, the protagonist of "Dukha, Tanha, and Nirvana: Or the Great Leap Forward," works at a Takee Outee on Bourbon Street in the French Quarter. I hadn't thought of Takee Outee since the 1980s. It's the author's attention to such details that gives the stories a life and presence that propel them off the page.
These stories are sly and thoughtful slices of life with embedded truths throughout. A recurring theme involves understated conflict between more worldly and sophisticated characters and less refined members of their community. In the title story, a woman who founded a group for seniors finds her authority challenged by a newcomer, a former military officer with other ideas for how Seniors in Action should spend its resources. In another story, a recently widowed man surprises himself as his reluctant tolerance of a snobby married neighbor begins to turn lustful. "Goodly States and Kingdoms" becomes an entertainingly tense theological discussion amidst lemonade on the patio when a "sanctified" holy roller barges on the scene to witness to an elderly Episcopalian woman and her Baptist companion.
Unlikely relationships characterize stories like "The Fugitive," in which a young man develops an unlikely bond with an enigmatic older man who might have committed a murder decades earlier. A construction worker in "Double Agent" maneuvers the reconciliation of a divorced couple; in the process, he exposes the man to a tempting new world of possibilities. And in "Dukha, Tanha, and Nirvana," loosely translated as "suffering, desire, and enlightenment," Su-Yin travels to the U.S. from China for promised true love and a fine restaurant, then finds herself stuck behind the counter of a Takee Outee but discovers new promises, courtesy of a batch of fortune cookies. Conversely, "Miss Lily Peck Is in the Area" is a moving study in solitude as a forty-five-year-old single woman, paralyzed by her own self-doubt, spends the night alone in her parents' house for the first time in her life. Each of these enticing stories is entertaining, often surprising, and lovingly crafted. McMillan approaches his topics from interesting angles and beckons the reader to a satisfying conclusion that is, above all, an enjoyable read.
There is a significant shift of tone and emphasis in the collection's finale. "Two Chairs: A Memoir" is a meditation, of sorts, on McMillan family heirlooms—two ladder-back chairs built by a slave before the Civil War. The chairs were built for a slave-owning great-grandfather of the author and provoke a reckoning with the author's past and reflections on the proper place for such objects in the challenging present of Charleston,  Charlottesville, and the contentious removal of reminders of the Confederacy. Out of respect, McMillan tries to determine the identity of the enslaved person who so skillfully crafted his chairs and provides interesting details about the construction, preservation, and refurbishing of the still sturdy pieces. Chair construction is not the primary purpose of the essay, but I was fascinated by McMillan's explanation of the precise "mortis and tenon" joining technique in the chairs' construction. Beyond that, McMillan ponders the proper place for his mementoes and how best to honor the anonymous woodworker who built them. It is a thoughtful and provocative essay.
The Gold-Plated Scarab & Other Stories is a record of McMillan's keen observational skills and his lifetime of appreciation of literature and the fine art of storytelling in all of its forms. Let's hope there are more McMillan stories to be discovered.
 Edward Journey, a retired educator and theatre professional who lives in Birmingham, is on the editorial board of Southern Theatre magazine and regularly shares his essays in the online journal "Professional Southerner" (www.professionalsoutherner.com).