By Lee Smith
Algonquin Books of Chapel Hill; 2023
Hardcover: $27.00
Genre: Fiction
Reviewed by Edward Journey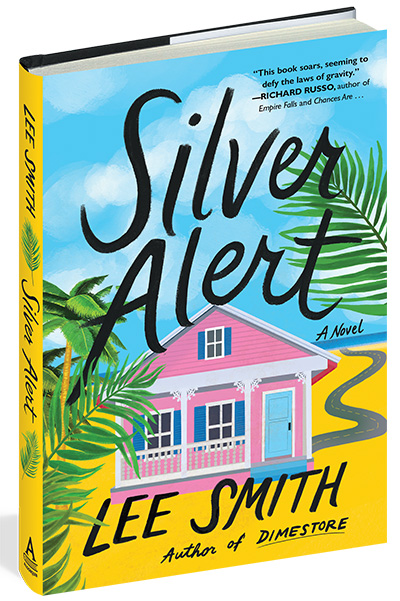 Writer Lee Smith's generosity to aspiring young writers, as well as to her veteran colleagues, is well-documented. She is widely regarded for her encouragement and support. Those traits extend to the characters she creates for the stories she tells – short stories, memoirs, and fifteen novels at last count. Smith's new novel, Silver Alert, is another sterling example of that generosity of spirit that continues to draw us to her work and creates characters we'll remember long past the final page.
Award-winning, best-selling author Lee Smith, of Grundy, Virginia, has been pleasing audiences with her "plain stories about country people and small towns" since the 1960s. Among the most beloved of her many novels are The Last Girls, Oral History, and Fair and Tender Ladies.  Although Virginia and North Carolina have the strongest claim to Smith, she often spent summers with relatives in Birmingham while growing up. Soon after her graduation from Hollins College in Virginia, she was a reporter for The Tuscaloosa News. Later, after her writing career was established, she taught at both the University of North Carolina and North Carolina State.
In Silver Alert, Smith once again presents a masterful collection of memorable characters, focusing on Herb and Dee Dee. Herbert Atlas, 83, lives in a pink tropical house – a mansion, he says – in Key West with his once vibrant wife Susan, aged 70. Susan has early onset dementia, requires around the clock care, and has reached the point where she is prone to violent outbursts. A manicurist is hired to give Susan a manicure and introduces herself to Herb as "Renee Martin"; it is soon revealed that Renee's real name is Dee Dee, she's in hiding to some extent, and her harrowing history gradually unfolds. Herb figures out that Renee is not the manicurist's real name but thinks of her simply as "not-Renee." Dee Dee can calm and comfort Susan when nobody else can, eventually getting Susan to paint contentedly at an easel with magic markers.
Herb has come to the realization that "old age is about urine, who knew?" and struggles to keep his own accelerating health issues to himself so that he can take care of Susan. When he does see a doctor, he observes with dismay that "the doctor is twelve years old."  Herb's children are on hand to assess the situation and decide what's best for Herb and Susan, despite Herb's belief that "the things of the world need to stay in one place, their own place, where they belong." Smith touches on a universal truth of the elderly trying to hide their infirmities and the offspring barging in to take over and do the "right thing" for parents who can no longer take proper care of themselves. In a difficult family intervention, "Herb feels like he's in a play."
Dee Dee loves being a nail "aesthetician" and doesn't mind touching her older clients after they get "old and icky." Her ultimate dream is to see the princesses at Disney World. Meanwhile, she struggles with her past and complications within her own chosen "family" of friends, acquaintances, and a boyfriend trying to tell her what to do with her life. She becomes obsessed with supplementing her limited formal education by learning new words and the text is scattered with words Dee Dee has learned; she announces each new word as she uses it. It's a charming motif that makes the reader root for Dee Dee even more, especially when she and Herb embark on a climactic, adrenaline-fueled road trip.
While the focus is on Hank and Dee Dee, Smith populates Senior Alert with a number of interesting characters. Herb's children and their partners are distinctively drawn, beginning with Maribeth, "the hippie one," and her partner, Pat, "the bossy one." Daughter Ashley and her "smart-ass" psychologist husband, Abe, turn Herb and Susan into a project in which they presume to know best.  Herb's stepson from a previous marriage, Ricky, is quietly present and observant as he tries to assist behind the scenes. Dee Dee's word for her friend, Tamika, from a previous "program" where they met, is endangered. For her boyfriend Willie – a graduate student taking time off, Dee Dee uses the words poet, geek, generous, coordinated, and hirsute.
On more than one occasion, I have heard writers repeat this simple statement of encouragement that Lee Smith has bestowed on them: You have a voice! Smith's own narrative voice and points of view shift seamlessly in Silver Alert. The mindsets of Herb and Dee Dee are dominant, but even Susan's point of view steps in on occasion: Purple is the color of people I hate. Smith has always been noted for her faithful renderings of the authentic voices of her characters in the "beautiful and precise Appalachian dialect I had grown up hearing as a child." The same precision applies to each of her characters, Southern, Appalachian, or not. Herb's profanity-laced thoughts reflect his increasingly helpless frustration at his plight. Dee Dee's cheerful native intelligence is partially a defense mechanism that constantly battles with her traumatic past where "nobody can do anything to you if you're just not there."
There is much charm and humor in Silver Alert, but it does not supersede the serious issues Smith deftly explores in this swiftly moving book. Smith's finely wrought observational skills are as apt as ever in this latest book. Smith never underestimates her readers; she knows that we can keep up. That famous generosity Smith is known for extends most graciously to those of us who eagerly read her work.
Edward Journey, a retired educator and theatre professional who lives in Birmingham, regularly shares his essays in the online journal "Professional Southerner" (www.professionalsoutherner.com).