By Anne Whitehouse
Dos Madres, 2020
Cloth: $19.00
Genre: Poetry
Reviewed by Foster Dickson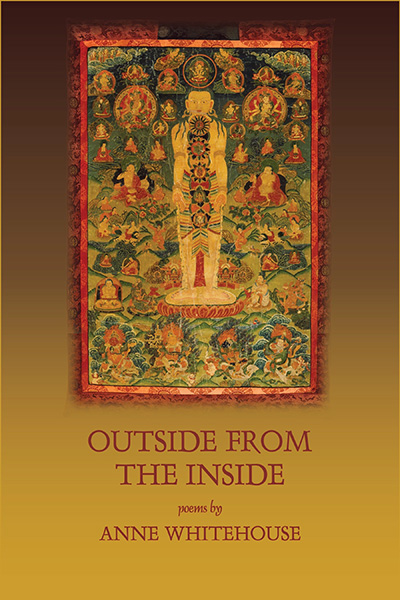 Originally from Birmingham, Alabama, Anne Whitehouse writes a highly personal kind of poetry that ranges in subject matter from personal observations to the imaginative consideration of historical figures. Thus, the title of her 2020 collection, published by Dos Madres Press, is quite appropriate: Outside from the Inside. The slim volume contains four sections: "Tides of the Body," "It Wasn't An Hallucination," "The Ancient World," and "A Dog's Life."
The first section contains free verse poems that marvel at comparisons between movement in nature and parts of our bodies. Some poems, like "Anconeus and Popliteus," use technical, anatomical language. Others, like "Summer Interlude," employ a more general and accessible vocabulary. Using vibrant imagery and stanzaic structures, these contemplative works bring the reader into the poet's mind.
Moving further into her mind, we reach "It Wasn't An Hallucination." The first poem takes on the voice of guitarist Carlos Santana, who describes being given acid by the Grateful Dead's Jerry Garcia.  What follows is a mixture of rumination and narrative, bringing us into various experiences and places; some we readily recognize, others we may not. Turning the pages, some poems lead off with indications of who we are meeting, like Robin Williams or Ernest Hemingway, while others leave the verses to speak to us by themselves.
The poems in the third section, "The Ancient World," deal primarily in subjects as old as mankind: God and death. Imagery from and allusions to Jewish culture and religion are prominent in the early portions – the Tabernacle, the Torah, Maimonides – though they fade out as the section continues. The last poem's subject is based around Paul Robeson's portrayal of Shakespeare's Othello.
Finally, "A Dog's Life" contains a grouping of poems that seem particularly personal. The imagery this time offers more from the mundane and the modern: the "dark-eyed sales girl at CVS," spider monkeys, a grandmother, the "twelve miles from Bessemer to Birmingham," the evening of Labor Day in Central Park. Yet, something grander is still there: the final line of the final poem reads, "as if they were floating in eternity."
This collection by Anne Whitehouse delivers what a poetry reader expects. The poems are accessible without being simpleminded, poignant without being obtuse. In her use of open and stanzaic forms, Whitehouse executes the concerns well, telling us little stories whose themes exert more than the details of the plots. As for the book, its organization, styling, layout, design— all clean and clear. Just we hope for, nothing in the way.
Also available are three very small, hand-sewn chapbooks of her poems: Surrealist Muse, Frida, and Escaping Lee Miller.
Foster Dickson is a writer, editor, and teacher in Montgomery. He is the author of Closed Ranks, the editor of Nobody's Home and level:deepsouth, and the coordinator of the Fitzgerald Museum's annual literary contest.