By D.B Tipmore; Photographs by Frank Williams
NewSouth Books, 2021
Hardcover: $25.95
Genre: Memoir
Review by Edward Journey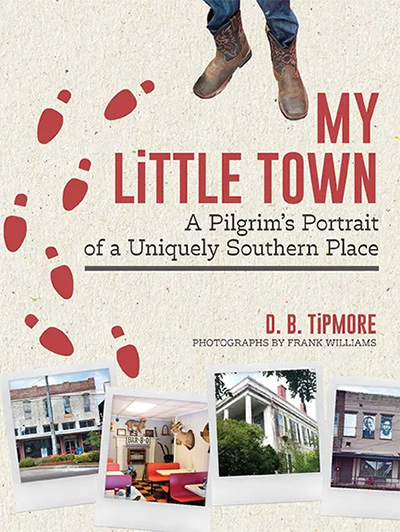 D.B. Tipmore has an aversion to "any Fox News program being televised during a meal; almost any speech by local or state Republican politicians; … any blanket statements about welfare checks; … any automatic presumption about blacks …; any self-serving dismissal of health care as a 'right'; any uninformed derision of the word 'socialism'; any Biblical explanation of natural law."  Given such aversions, the reader might be surprised by the generosity of his descriptions of the conservative white denizens of the small Southern town that he inhabits for a decade and chronicles in his memoir, My Little Town: A Pilgrim's Portrait of a Uniquely Southern Place. Tipmore has a clear affection for the place he calls "Lovelady" (immediately recognizable as Marion, Alabama, by anyone familiar with Alabama's Black Belt region) even though he feels his Southern sojourn creates a paradox of his own making; he both appreciates the place and its people and is disturbed by much of what he encounters there.
D.B. Tipmore, an Indiana native whose widely-published journalistic career was launched at New York's The Village Voice, has lived and traveled around the globe, in far-flung locations including London, Morocco, Paris, Saudi Arabia, South Florida, and Venezuela. He moved to Marion, Alabama, and took an administrative position at Marion Military Institute. While in Marion, he collected the material he includes in My Little Town, a collection of pithy essays focusing on various aspects of life in "Lovelady." A majority of the essays have one-word titles like "History," "Funerals," "Religion," "Race," "Politics," and "Jews." Topic by topic, Tipmore gives his astute, almost anthropological, insights into the culture of a small and fading place. The place he describes is uniquely Marion, but his readers surely know of other small towns with similar fates; they dot the South and beyond. These are the towns that the interstate highways passed up, that lost the economic drivers of the past, whose young people can't wait to flee. Occasional revitalization initiatives might appear, but they tend to "start with great fanfare and often die out as quickly as sparklers."
We learn that Lovelady has gone from a county-wide population of around 30,000 at its peak in 1900 to around 3,000 in the town today (and only about 8,000 in the county as a whole). In a chapter called "Decay," there is a list of the few amenities the town still holds on to ("one dry cleaners / one 'supermarket' / one doctor / one dentist /" etc.) and of all that have disappeared. The town has, however, "two excellent nursing homes." Tipmore blames much of the loss on "entropy and inertia" and "the wound of Southern history, its immovable past refusing to let go of the present." His little town, he suggests, "is all about history as emotion."
"Without churches," Tipmore notes, "my little town would not exist."  The church communities that Tipmore describes with often affectionate relish provide the town's culture and lifeblood, along with a Baptist women's college and a military institute. Sadly, since the book's publication, Judson, the women's college (Tipmore calls it "Rinehart"), abruptly shut its doors. Tipmore finds a "church home" with the Episcopalians and stories of church socials, women's clubs, and congregational jockeying for influence and position provide some of the most entertaining moments of My Little Town. The book was sitting on a table in the living room when my mother came for a visit and she opened it to the essay called "Poisoned Soup" (which follows the essay called "Chicken Salad"); Tipmore's chatty reminiscences kept her entertained for quite a while that afternoon. He asks tough questions and is unflinching in his criticism, but he also knows how to weave an infectiously charming tale.
Although the majority population of Tipmore's little town is Black, the recollections in his book seem, with a few exceptions, to keep that population on the fringes. Passing references are made to the fact that "Lovelady" is the home town of Coretta Scott King and the site of events crucial to the Civil Rights movement of the 1960s. Jimmie Lee Jackson was murdered there, in a death that ignited the Selma to Montgomery March. Tipmore only alludes to these circumstances, even though these are the things that make Marion still relevant today.
Tipmore's attempts to provide insight into the town's racial dynamics fall short and seem to have an unintentional air of condescension. He tells the reader that, for him, the Black population of his little town has "remained a mystery," sending an "implicit message" that they want to be left alone. He is slightly more successful at capturing the racial dynamics in the essay entitled "Education," which explores the plight of local education and the perhaps failed legacy of the landmark Brown vs. Board of Education decision.  Overall, the author's consideration of race is a troubling evasion that leaves a serious void in his attempt to capture a place. It might also, however, be a safer choice in a cultural climate that often deems it inappropriate for a white man to attempt interpretation of those outside his race, gender, ethnicity.
My Little Town is an allusive but charming book full of crafty demurrals. Constant subtexts, discreetly withdrawn, resonate as loudly as the book's bold insights and fond recollections. It isn't giving away too much to say that Tipmore finally leaves his "little town," but the book jacket says that he now calls Selma, Alabama, "home." Selma, population 20,000, is twenty-five miles from Marion; what are we to make of that?
Edward Journey, a retired educator and theatre artist, is on the editorial board of Southern Theatre magazine, regularly shares his essays in the online journal "Professional Southerner (www.professionalsoutherner.com), and has published reviews, papers, and articles in Alabama Writers' Forum, Arkansas Review, Southern Theatre, and Theatre Symposium.